D.C. Council Members to Introduce Marijuana Decriminalization Bill Today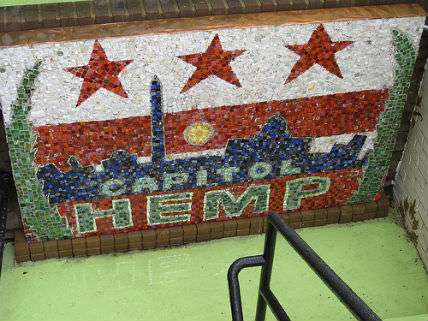 It looks like D.C. councilmembers who talked earlier this year about introducing a marijuana decriminalization bill are actually going to follow through. At a press conference this morning D.C. Councilmember Tommy Wells announced that he and fellow Councilmember Marion Barry will introduce a marijuana decriminalization bill today.
From the Marijuana Policy Project:
The measure would remove criminal penalties for possession of less than one ounce of marijuana for individuals 18 years of age and older and replace them with a civil fine of $100, similar to a traffic ticket. Individuals under the age of 18 would face a civil fine of $100 and would be required to attend a drug and alcohol awareness program.

The District has the country's highest arrest rate for marijuana possession – it is more than three times the national average – and blacks are more than eight times more likely to be arrested for possession than whites, according to a report released in June by the American Civil Liberties Union (ACLU).
As chairman of the Public Safety and Judiciary Committee, Wells has moved the ball forward substantially. This time last year his predecessor, Phil Mendelson, was insisting that the council couldn't "make radical changes to drug laws" because "the U.S. Attorney is going to expect the same drug polices as the federal government."
Assuming the bill passes the council and is signed by D.C. Mayor Vince Gray (who has yet to voice an opinion on decriminalization, from what I can tell), it'll then go to the Hill for congressional review.
Previously in D.C. pot talk: 91 percent of D.C. Pot Charges Are Filed Against Black People, Only Six Percent Are Filed Against Whites