Knoxville Cops Beat Up Mentally Ill Homeless Man, Three Plead Guilty to Misdemeanor, Felony Charges
Four others face unpaid suspension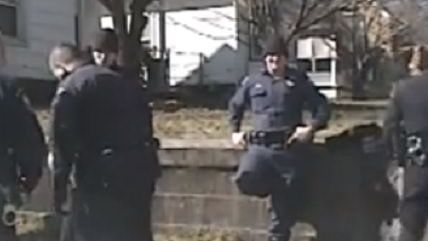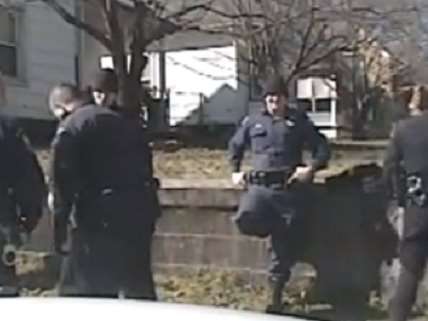 Seven cops in Knoxville participated in the beating of a drunk mentally ill homeless man after he was handcuffed that was caught on no less than four in-car cameras. Three of the officers have pled guilty to misdemeanor assault and felony official oppression and will be sentenced in August, and now the video, and an internal affairs report that also implicates the other officers involved as well as their supervisors, has been released. Via the Knoxville News Sentinel:
[T]he trio were not alone in the attack. Two other officers — Richard Derrick White and Nicholas Ferro — also were found at fault in [Internal Affairs Unit Captain Kenny] Miller's probe of excessive force against [the homeless man, Michael Allen] Mallicoat, while the original two responding officers to the scene that day — Haley Starr and Cynthia LeeAnn DeMarcus — were labeled in Miller's report as willfully blind and deceitful.

At an afternoon news conference at KPD's Moses Center training facility, [police chief David] Rausch announced disciplinary action taken against those four officers as well as against three supervisors — Capt. Eve Thomas, Lt. Brad Anders and Sgt. John Shelton — who approved what turned out to be deceitful use of force reports without having viewed what Rausch deemed the most incriminating video of at least four cameras rolling that day.

Thomas received an oral reprimand, while Anders and Shelton received written reprimands.

"It's just completely inappropriate," Rausch said. "I feel sorry it happened. We're sorry to Mr. Mallicoat this happened. I tell people all the time, unfortunately we have to recruit from the human race."
One of the officers, Starr, injured her fist while punching Mallicoat. The four officers face suspensions without pay ranging from six days to 18 and at least one was demoted for covering up the abuse. Everyone's keeping appears to be keeping their jobs except the ones presumably going to jail, who are no longer with the force
Read the rest of the story at the Sentinel, (or at Police One, where I first saw it, if you're interested in the comments of verified law enforcement officials) and watch the video, below: