FreedomWorks Challenges Surveillance Fetishist Lindsey Graham to Turn Over His Email Password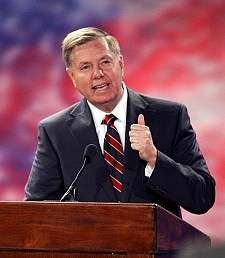 At a press conference today FreedomWork Pres. Matt Kibbe challenged Sen. Lindsey Graham (R-S.C.) to turn over his email password. You know, because Graham has nothing to hide. Here's the group's press release:
In a Fox and Friends interview last Thursday, Senator Graham defended the National Security Agency's (NSA) warrantless surveillance of American civilians, telling the show's hosts, "I don't think you're talking to the terrorists. I know you're not. I know I'm not. So we don't have anything to worry about." Senator Graham then went one step further, concluding that he was "glad" the warrantless surveillance activity was happening in the NSA.

Kibbe commented, "Privacy is a citizen's right to choose what information you prefer to tell the public about, and what you choose to keep to yourself. Senator Lindsay Graham recently asserted that violating the Fourth Amendment to implement warrantless government surveillance is not only acceptable, it's welcomed. If we're not talking to terrorists, we have nothing to worry about."

"Respectfully, Senator, we ask you to lead by example and make your email account password available to the American people. If you have nothing to hide, then you have nothing to worry about. Right?"
At the same press conference, Kibbe announced that FreedomWorks had signed on to Sen. Rand Paul's lawsuit against the NSA.