Dana Rohrabacher Introduces (and Justin Amash Cosponsors) the Respect State Marijuana Laws Act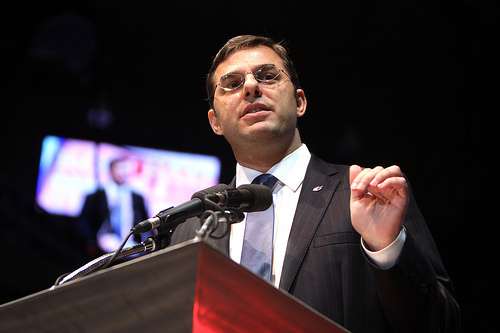 Hours after his Republican colleagues in the House called for Pres. Obama to crack down on legal marijuana in Colorado and Washington, Rep. Dana Rohrabacher (R-Cali.) introduced H.R. 1523, a bill that would immunize from federal prosecution "individual marijuana consumers [as well as] medical and non-medical marijuana businesses operating in states in which they are legal," according to a Marijuana Policy Project announcement.
"This bipartisan bill represents a common-sense approach that establishes federal government respect for all states' marijuana laws," MPP quotes Rohrabacher as saying. "It does so by keeping the federal government out of the business of criminalizing marijuana activities in states that don't want it to be criminal."
The Respect State Marijuana Laws Act is co-sponsored by Reps. Justin Amash (R-MI), Don Young (R-AK), Earl Blumenauer (D-OR), Steve Cohen (D-TN), and Jared Polis (D-CO).