D.C. Really Does Not Want Want Me to Eat a Delicious Lobster Roll from a Truck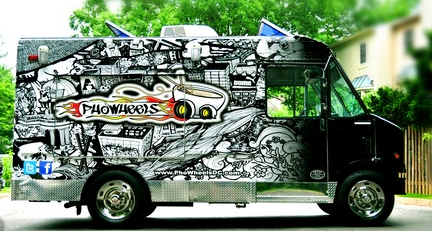 After much consideration, consultation with stakeholders, community meetings, and related dog-and-pony shows, Washington, D.C., is proposing a new regulatory scheme for food trucks. And it sucks quite a bit, reports the Washington City Paper:
D.C.'s Department of Consumer and Regulatory Affairs released the latest round of proposed food truck regulations. The rules would create special zones throughout the city that would limit how many trucks could vend where. A monthly lottery system would determine who gets the spots. Those who didn't win or want a place in the so-called "mobile roadway vending zones" would have to stay at least 500 feet away in metered parking spots with at least ten feet of unobstructed sidewalk.
Want to guess what happened next?:
Several food truck owners say they are considering shutting down or moving their operations to Virginia, Maryland, or other states if the regulations prove too limiting.
And those "special zones"? Not all of them are equally special:
D.C. Food Truck Association chairman and Red Hook Lobster Pound co-owner Doug Povich says trucks could end up winning proposed locations with little weekday lunch traffic like Navy Yard, Historic Anacostia, Minnesota or Benning avenues NE, and Friendship Heights. Because they've spent $150 for the spot, they'll likely go the first time. But if they're losing money there, they may not want to come back the following weeks, Povich says. The result would be empty parking spots that nobody else could use for four hours.

Povich believes only five areas—Farragut Square, L'Enfant Plaza, Franklin Square, Metro Center, and Union Station—have enough traffic and congestion to warrant a zone, not 23. He says his trucks do half the business in a lower-traffic location like Friendship Heights or Navy Yard as they do downtown. Trucks that don't have Red Hook's 25,000 Twitter followers might do as little as 5 to 10 percent, Povich estimates.
The Daily Beast's Megan McArdle sums the situation up nicely:
To be sure, the food truck owners are undoubtedly overstating their case, since that's what business owners do in this sort of situation.  But that said, it's obviously going to make their businesses less viable, and there's no reasonable basis for that.  It hurts consumers and it hurts the food truck owners–scrappy entrepreneurs who are improving the quality of food in DC and creating jobs, and possibly building businesses that will become bigger in the future.  The only people who benefit are restaurant owners, and while I feel bad for them, they do not have a right to sell food to harassed office workers.