UN Gun Control Treaty Entering Final Round of Negotiations
Unlikely to produce anything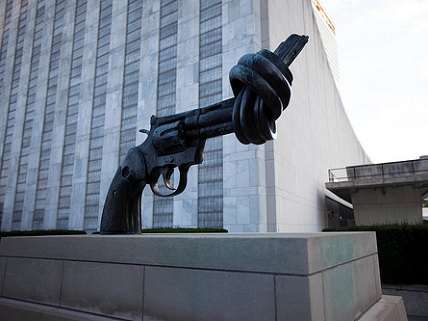 Last summer's round of negotiations on the United Nations Arms Trade Treaty ended with the United States asking for more time, giving anti-gun advocates hope that a post-election round of negotiations would go better. The "final conference" for the treaty began at the United Nations today.
On Friday Secretary of State John Kerry released a statement that the U.S. was committed to a "strong and effective" treaty to "help stem the illicit flow of conventional arms across international borders, and have important humanitarian benefits." It could "only" be part of the treaty, Kerry noted, if it didn't "impose any new requirements on the U.S. domestic trade in firearms or on U.S. exporters" and that the U.S. "will not support any treaty that would be inconsistent with U.S. law and the rights of American citizens under our Constitution, including the Second Amendment."
So what, then, is the point of American participation in the negotiations? George W. Bush's refusal to join negotiations prevented them from getting off the ground. The United States is the largest arms exporter in the world, estimated to account for 30 percent of global volume, followed by Russia (26 percent), Germany (7 percent), France (6 percent) and China (5 percent).
A "defense cooperation exemption" introduced by India would allow any arms transfers (like, say, Russia's to Syria, or the West's to Syrian rebels) to be exempt from the treaty if its identified as part of a "defense cooperation agreement" by the government in question.
The NRA, of course, opposes the treaty as an infringement on the Bill of Rights. The purported purpose of the treaty is to prevent arms from worsening humanitarian crises. But the governments involved can't be expected to sign anything that would curtail their own powers and abilities as arms merchants. Much more likely that any framework devised would be used to introduce more domestic regulations and restrictions on the private ownership of firearms in the name of complying with the treaty.