Feds Give Up Trying to Seize a Motel Based on Drug Offenses by a Few Guests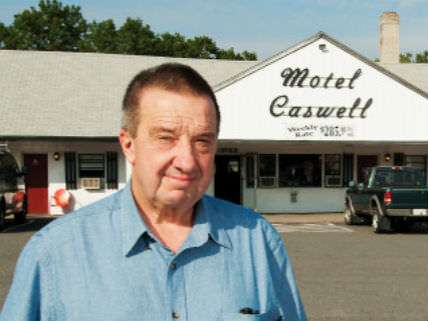 Today the U.S. Attorney's Office in Boston said it will not appeal a ruling that blocked the federal government's attempt to seize and sell a family-owned motel in Tewksbury, Massachusetts, based on drug offenses committed by a tiny fraction of the people who stayed there. The government conceded that the owner, Russell Caswell, did not participate in those crimes and was not aware of them at the time, but it argued that he was "willfully blind" to them. In January, U.S. Magistrate Judge Judith G. Dein ruled that the Motel Caswell was not subject to civil forfeiture because it was not connected to drug crimes closely enough. Even if the forfeiture law did apply, Dein said, Caswell would qualify for the "innocent owner" defense, a provision aimed at protecting people whose property is used for illegal purposes without their knowledge.
"The Caswell family has been put through the wringer by the federal government for over three years," says Scott Bullock of the Institute for Justice, which represented the Caswells, "and we are thrilled that this law-abiding family is now finally safe from civil forfeiture "The Caswells stood to lose everything for which they had worked so hard. This case epitomizes everything that is wrong with civil forfeiture laws and why they are in such desperate need of reform. We will build off of this victory in future cases to once and for all end civil forfeiture and the inevitable abuses that surround it."
Previous coverage of the case here.