New York City Council Wages War on Walmart
The latest dumb idea from politicians in the Big Apple.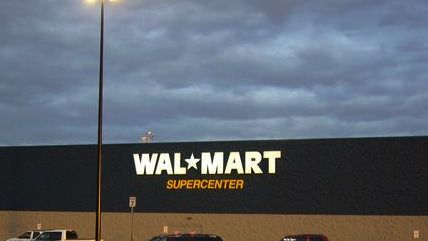 In a city where the unemployment rate is 9.1 percent, above both the statewide and national average, you'd think that mayoral candidates would be competing to attract businesses and jobs.
And in a city where the cost of living is so high that the city pays $3,000 a month for landlords to house the "homeless" in rooms without kitchens or private bathrooms, you'd think that mayoral candidates would be competing to welcome a discount retailer that would allow residents to save money on clothing and groceries.
Yet this is New York City. Instead of laying out a welcome mat for Walmart, the Democratic mayoral candidates are trying to keep the company out of the city. An account in The New York Times recently quoted the speaker of the City Council, Christine Quinn, declaring, "As long as Wal-Mart's behavior remains the same, they're not welcome in New York City…New York isn't changing. Wal-Mart has to change."
Maybe Quinn can make "New York isn't changing" the slogan of the mayoral campaign she launched over the weekend. The candidate who would be the city's first woman and first lesbian mayor turns out to be, on economic development questions, the spokeswoman for stasis.
If previous generations of New York leaders had taken the "New York isn't changing" approach, the place would still be called New Amsterdam, and we'd all be speaking Dutch.
Quinn's die-hard opposition to Walmart undercuts the claim sometimes made by her defenders that she would be a worthy successor to the current mayor, Michael Bloomberg. Bloomberg, for all his nanny-state excesses — banning large soft-drinks, trans-fats, and smoking in bars — has been steadfast in articulating the principle that whether to shop at Walmart is a decision for individual consumers, not a decision for city officials to substitute their own judgments for those of individuals. "This city should be open to business for anyone who wants to come here," is how the mayor put it at a press conference in 2011, according to an account in the Wall Street Journal. "You should let the marketplace decide."
In opposing Walmart, Quinn is acting less like Bloomberg, and more like the Democratic mayor of Boston, Thomas Menino, who explained his opposition to allowing the store to open in the city by saying, "Wal-Mart makes their money and runs to the Midwest and deposits it in the bank. I want the money to stay in our neighborhoods and employ neighborhood people."
Imagine if the rest of the country took that sort of narrow-minded attitude toward Boston-based businesses such as Fidelity Investments, New Balance sneakers, or Legal Sea Foods?
The objections to Walmart by the politicians are without merit. An economic policy official in the Obama administration, Jason Furman, described the company as "a progressive success story," observing that shopping for groceries there yields savings equivalent to a 6.5 percent raise for families in the bottom income quintile.
As for complaints about the labor practices of Walmart's contractors in Communist China, plenty of other vendors of China-made products are already operating in New York City, from the Apple stores to Pearl River Mart. Poor labor conditions? Walmart jobs may not be as cushy as slots volunteering for the Quinn mayoral campaign, but at least they are paid. Plenty of New Yorker labor under worse conditions washing dishes in restaurants or delivering food, or maybe without jobs at all. Who does Quinn think she is to deprive them of the choice to work at Walmart if they decide they want to do so?
Is it that Walmart employees are not represented by a labor union? Neither are most of the workers at Bloomberg News, yet we haven't yet heard any calls by Quinn to kick the mayor's financial news and information company out of the city. The New York Post notes that she is endorsed by a union that represents grocery store workers.
Truth is, in a modern world, it's hard to stop New Yorkers from shopping at Walmart. They can drive outside the city limits or go online to Walmart.com. Or they can move away from the city to a place where the politicians have a more enlightened view of economic liberty. A Quinn administration, or the prospect of one, may be enough to drive some New Yorkers to do just that.