Baffling Washington Post Editorial: Rand Paul Was Wrong. And We Need More Drone Transparency!
Why do they think the senator is worried about domestic drone strikes?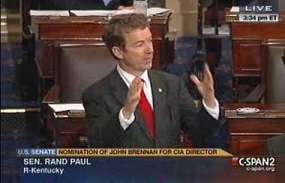 To put it bluntly, this Washington Post editorial criticizing Sen. Rand Paul's filibuster reads as though nobody on their board actually listened to any of it and decided to critique it based on summaries:
After Sen. Rand Paul (R-Ky.) held the Senate hostage Wednesday in order to warn that American citizens could be targeted by drone strikes on U.S. soil, he was rightly taken to task for gross and irresponsible mischaracterizations of the Obama administration's policy. We've got another complaint: Mr. Paul and his followers are distracting attention from the real issues raised by the administration's secret warfare.
The editorial board characterizes Paul and Texas Sen. Ted Cruz essentially as conspiracy theorists for believing the Obama Administration could rain down Hellfire missiles from drones on people in cafes and not letting Attorney General Eric Holder's vague letter settle the matter.
Then the editorial pivots to what their board thinks is the real issue. Except it doesn't actually pivot at all:
But enough about Mr. Paul: The fact that his paranoid fantasies gained some traction is testimony to the administration's real failures in managing its counterterrorism campaigns. Mr. Obama has chosen to carry out hundreds of drone strikes against al-Qaeda targets in Pakistan, Yemen and Somalia, including one against a U.S. citizen, without any public accounting. Justice Department memos authorizing the attacks have not been disclosed; only this week were senators on the intelligence committee allowed to read them. The White House has devised a process for adding names to a target list for drone strikes but has never revealed even its outlines. Instead, it insists on its righteousness and invites Americans to trust that its decisions are justified.

That is not how a democracy should operate.
Hey, Washington Post editorial board, why do you think Sen. Paul doesn't trust the administration's vague letters about its "intent" for domestic drone strikes on Americans?
After criticizing Paul for filibustering the administration's lack of transparency for domestic drone use (and not even believing there's a lack of transparency), the writer is upset that Paul's filibuster didn't draw attention to the administration's lack of transparency for foreign drone use.
Paul did actually talk quite a bit about the administration's foreign drone use in his 13-hour filibuster and specifically how the administration's lack of transparency and method for engaging in strikes had informed his concerns about their use on American soil. Paul brought it up during the very first hour, and he repeated these comments probably four or five times at least. You didn't have to watch the entire filibuster to grasp Paul's argument, so the Washington Post really has no excuse for missing his point:
There was a man named al-Awlaki. He was a bad guy, by all evidence available to the public that I've read, he was treasonous. I have no sympathy for his death. I still would have tried him in a federal court for treason and I think you could have been executed. But his son was 16 years old, had missed his dad, gone for two years. His son sneaks out of the house and goes to Yemen. His son is then killed by a drone strike. They won't tell us if he was targeted. Suspect, since there were other people in the group, about 20 people killed, that they were targeting someone else. I don't know that. I don't have inside information on that. But I suspect that.
The reason Paul, Cruz and others worry about the Obama Administration possibly using drones to kill Americans on American soil in non-combat situations is precisely because this is how the administration is using drones in foreign countries. A significant component of his filibuster was demanding that the Obama Administration not use the same system for targeting Americans that they are using overseas. The Washington Post editorial board and Paul are actually on the same side. How can they not grasp why Paul went through all this trouble?