Californians Aren't Buying Enough Gas. Solution: Raise Gas Taxes!
State will soon have highest rate in the country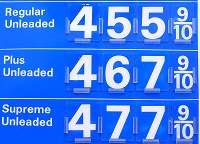 California had a $157 million shortfall in gas tax-revenue for fiscal year 2012 and gas consumption by Californians has dropped by more than 1 billion gallons a year since 2006. So of course the state is going to respond by raising gas taxes. Jonathan Horn at the San Diego Union-Tribune has the forehead-slapping details:
The tax you pay on a gallon of gas will rise by 3.5 cents in California come July 1.

The state Board of Equalization voted 3-2 on Thursday to increase the excise tax about 10 percent, from 36 cents per gallon to 39.5 cents per gallon.

The increase is partly due to a $157 million shortfall in gas-tax revenue in fiscal 2012, and also a projection of less consumption by California drivers.
After the increase goes into effect, California will have the highest gas taxes in the nation at about 70.1 cents per gallon. The state is currently just behind New York.
The excise tax is used for highway projects, the Board of Equalization notes. A recent report from the Reason Foundation (the non-profit that publishes this site) showed that California is essentially the only state whose highway infrastructure hasn't improved in the past 20 years. But then, the excise tax is also used for mass transit projects, meaning Californians may end up paying the highest gas taxes in the country to fund that godforsaken high-speed train they don't even want anymore.