Drug War Propagandist Barry McCaffrey Calls Washington State Officials "Intimidated, Irresponsible, Uneducated"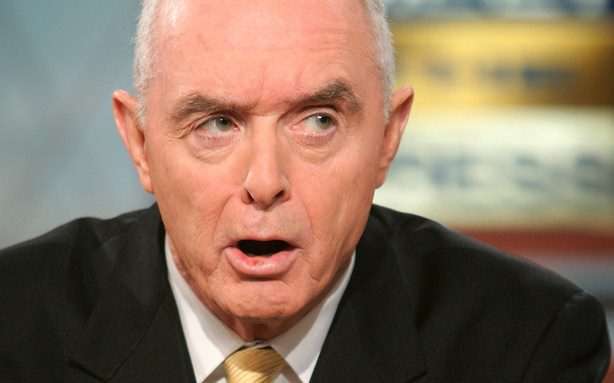 Four-Star Gen. Barry McCaffrey's tenure as director of the Office of National Drug Control Policy was marred by the kind of scandal that would have shamed a more decent person into spending the rest of his life in disguise. And yet, McCaffrey is still out in the world, telling lies for money.
As Pres. Bill Clinton's second-term drug czar from 1996-2001, McCaffrey denied that AIDs and cancer patients could receive any relief whatsoever from marijuana, and tried to ruin the lives of doctors who so much as spoke about the drug with their dying patients. He treated ONDCP staffers so poorly that two-thirds of them quit. He lied frequently and obviously. He ended his tenure by secretly paying TV networks to insert anti-drug messages in their shows. What he did after leaving the ONDCP was also pretty nasty: took money from military contractors in exchange for promoting their interests in Iraq on network television (without disclosure, of course).
McCaffrey's latest exploit is second guessing the motivations and intelligence of Washington state officials, who are now working to implement regulations for recreational marijuana, during a speech before the Downtown Yakima Rotary Club in Washington state:
The state's marijuana legalization law is "a huge mistake" that will lead to increased drug and alcohol abuse, the nation's former drug czar and retired four-star Gen. Barry McCaffrey said in an interview Thursday.

"I don't have a clue" how the federal government will respond, said McCaffrey. "I think local political leadership in the state of Washington was intimidated and irresponsible, or uneducated."
To get a sense of just how ridiculous McCaffrey is on this issue, see this interaction with a Rotarian:
Prior to McCaffrey's speech, a Rotary member joked in opening remarks that he wouldn't ask who was taking advantage of legalized marijuana, but instead offered up boxes of Ding Dongs, Twinkies and other snacks that can appeal to marijuana users who have the munchies.

McCaffrey said a relaxed attitude toward marijuana doesn't help the problem.

"Even the nice gentleman who thought it was funny and clever to use Twinkies," McCaffrey said after the meeting. "If you're an employer and you think it's OK for family members and employees to use drugs, you've got a screw loose."
If anybody has a screw loose, it's probably not the guy joking about the munchies. Previously, McCaffrey was seen at a different (paid) speaking gig, scolding efforts to reduce HIV and addiction:
Fix co-founder and treatment specialist Joe Schrank asked the general during a Q&A, "Could Portugal's example of drug decriminalization work here?" Portugal decriminalized all drugs more than 10 years ago, a move that reportedly brought lower rates of drug use, drug-related deaths and HIV infections, and made people with addiction problems more likely to seek treatment.

But that wouldn't happen here, according to McCaffrey. He argued at length that "legalizing drugs would be an utter disaster," claiming that "low-level users" don't do time in the US, and concluding: "Portugal? Bullshit!" The remark drew some applause from the conference crowd at the Hotel Del Coronado, many of them treatment providers.
A militant drug warrior cheered by people who make a living off government-mandated substance abuse counseling. There's a dystopian vision for you.
For a nearly complete recounting of McCaffrey's drug-war legacy, see Jacob Sullum.