Motel Caswell Owners Defeat Federal Forfeiture Based on Guests' Drug Offenses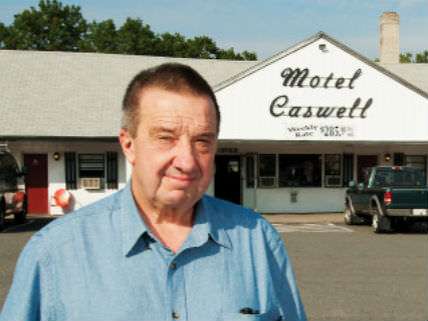 After seeing my column about the Motel Caswell forfeiture case from the February issue of Reason, I realized that the follow-up post I wrote last Thursday never went live. So here it is again:
Great news from Massachusetts: Russell and Patricia Caswell, owners of a Tewksbury, Massachusetts, motel that the federal government tried to seize because some people who stayed there committed drug crimes, have beaten back this land grab in court with help from the Instiitute for Justice. Today [January 24] U.S. Magistrate Judge Judith G. Dein, who heard evidence in the case last November, rejected the forfeiture action, saying the Caswells qualify for the "innocent owner" defense under federal law:
The evidence was undisputed that Mr. Caswell did not know the guests involved in the drug crimes, did not know of their anticipated criminal behavior at the time they registered as guests, and did not know of the drug crimes whilethey were occurring. Not only did Mr. Caswell testify to these facts, but also the law enforcement witnesses confirmed that they had no reason to doubt the veracity of Mr.Caswell's statements….

Mr. Caswell did not have prior knowledge of the limited number of drug crimes committed by transient guests over the course of an extended period of time, and the police did not advise him of those crimes. Moreover, this Court finds that the Government has failed to establish that drug crime was so blatant and pervasive at the Motel that Mr. Caswell had "actual knowledge" that drug crimes were likely to occur frequently at the Motel….

I also find that Mr. Caswell did not engage in "willful blindness" from which the court can infer consent to the drug transactions.
Dein also ruled that "the Government has not met its burden of proving a substantial connection between the Motel Caswell and the forfeitable crimes, and, therefore, has not met its burden of proving that the Property is forfeitable." Institute for Justice attorney Scott Bullock calls the decision "a complete victory for the Caswell family and for the protection of private property rights." Russell Caswell adds:
I couldn't have fought this fight without the help of the Institute for Justice. It is hard to believe anything like this goes on in our country, but the government goes after people they think can't afford to fight. But with IJ's help, we put up a heck of a fight and have won. The public needs to stand up against these abuses of power.
Dein's decision is here. Previous coverage of the case here.
Update: U.S. Attorney Carmen Ortiz says she may appeal Dein's decision.