The Nude Scanners May Be Leaving, But TSA Scanning Still a Scandal
This is from last week, but only came to my attention today, via the Competitive Enterprise Institute (where I held a fellowship in 1999): Some interesting lack of enthusiasm for the kinda-good news that the Rapiscan body imaging machines are being removed by June from airport checkpoints by TSA, noted here at Reason 24/7.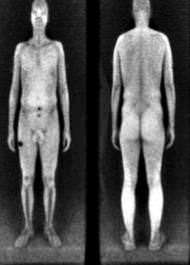 CEI's Marc Scribner thinks TSA scanning is still a scandal:
….What happened [last week] is that the TSA is ending its contract with OSI (parent of Rapiscan Systems), manufacturer of the original whole-body scanner, because OSI was unable to meet its deadline to come up with software capable of generating the newly required "gingerbread man" passenger depictions through its backscatter X-ray machines….

The core issues that TSA has repeatedly failed to address began with TSA's flouting of the law that required them to conduct a notice-and-comment rulemaking under the Administrative Procedure Act. Public and expert comments were never solicited and never taken into account before the TSA began purchasing and deploying these machines. It remains to be seen if they are at all effective in reducing risks to air traveler safety….

The Electronic Privacy Information Center (EPIC) filed suit against the TSA's illegal deployment of whole-body scanners. A court later ordered that the agency was in fact in violation of the Administrative Procedure Act and that it must open the required notice-and-comment rulemaking proceeding. A year after the court's order, the TSA still had not complied. EPIC petitioned for a writ of mandamus in an attempt to force the agency to promptly begin the proceeding they are legally required to conduct. The Competitive Enterprise Institute led a diverse coalition supporting EPIC's petition, filing an amicus brief on the coalition's behalf. The court rejected EPIC's mandamus petition, but in doing so effectively set a timetable for the TSA to begin its legally required rulemaking proceeding. The TSA is obliged to announce the proceeding no later than the end of March.

In August, former American Airlines Chairman and CEO Robert L. Crandall and I coauthored an op-ed explaining why the TSA's use of scanners is both illegal and likely just another cog in the federal government's growing apparatus of counterproductive aviation security policies…

….While it is true that the millimeter wave scanners coupled with the "gingerbread man" software are less intrusive than the backscatter X-ray machines they are replacing, the underlying problems with whole-body imaging such as the lack of sound, risk- and cost-based security policy and the TSA's continued lawless behavior remain unaffected.
In October, the Supreme Court alas passed up a chance to decide whether airport scanners might violate the 4th Amendment.
TSA: Still a Menace, I wrote back in 2011.
Remember when it seemed possible to argue that merely asking for I.D. at airports might violate our rights? Ah, 2003!