Post-Sandy Hook Support for Gun Control Already Slipping
More grist for the argument that Obama has started a fight on guns he knows he's going to lose: CNN reports that post-Sandy Hook a CNN/Time Magazine/ORC International poll released yesterday shows support for gun control already slipping (though not yet below majority, but it hasn't been that long):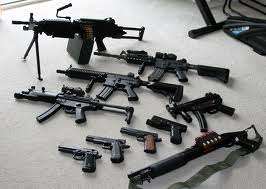 According to the survey, 56% support a ban on semi-automatic guns, but that's down from 62% in a CNN poll taken in the days after the shooting at Sandy Hook. The same is true for a ban on high-capacity ammunition clips—62% in December, down to 58% now—as well as a requirement for all gun owners to register their firearms with the local government—78% last month, down to 69% now.

"Those changes are likely due to the passage of time, as the initial shock of the Newtown tragedy has begun to wear off, and may indicate why the White House has put the gun issue on a fast track," says CNN Polling Director Keating Holland.
Alas, support for background checks on all sales—the law change that will do the most to cut off perfectly innocent people's ability to practice a core human and constitutional right, and to bedevil Americans trying to just sell one of their possession—are still overwhelming:
Americans are evenly divided on restricting ammunition purchases, but they strongly favor background checks at all levels—92% want them at gun stores, 87% want them at gun shows, and 75% favor background checks even for person-to-person transactions between individuals.
An interesting and promising age-demographic detail:
Two-thirds of women, for example, favor a ban on semi-automatic assault weapons, while a majority of men oppose such a ban. Support for that proposal is nine points higher among people over 50 years old than it is among younger Americans. Those patterns repeat on many other gun proposals.
Emily Ekins analyzed December's gun-related polling.