Glenn Reynolds: Debt Problem Belongs to Obama Now
Barack Obama won't be a first-term president much longer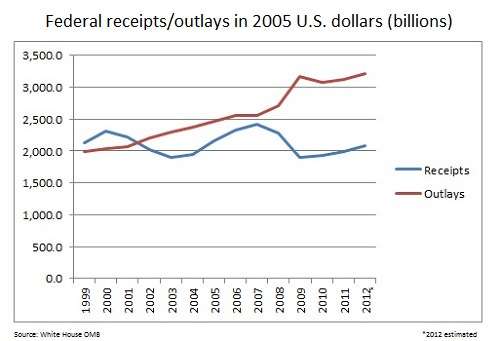 Over at USA Today, Glenn "Instapundit" Reynolds uses a chart put together here at Reason to explain why four years into Obama's presidency, he owns the debt problem. A portion:
In 2003, when we invaded Iraq (one of those "two wars on the credit card" that Obama likes to blame for the debt), and when we passed the Bush tax cuts (the other thing Obama likes to blame for the debt) revenue actually started to climb. The revenue and spending lines start to converge, and, as they head up to 2006 it actually looks as if the two might cross, with revenue outpacing spending.

Even the New York Times noticed, spotting unexpected increases in revenue in 2005, and in 2006 noting that a "surprising" increase in tax revenues was closing the budget gap. The heady possibility of surpluses was in the air. But—look at the graph again—everything changes in 2007.

What happened in 2007? The financial crisis hadn't struck yet. But we did elect a new Democratic Congress, with Democrats controlling both houses for the first time in over a decade. The trend immediately reversed, and became much worse with President Obama's election in 2008 and inauguration in 2009. (In fact, despite talk of "wars on the credit card," we could save a lot of money by cutting defense spending back to where it was in 2007.)

So does that mean that the ballooning debt is all Obama's fault? No. Most of those spending bills got Republican votes, too. But it does mean that, as Politico notes, Obama now owns the 60% increase in the debt that has occurred on his watch, and can no longer credibly blame Bush (under whom plenty of Democrats voted for spending bills).
Reynolds also wishes the 2006 version of Barack Obama, who understood the problem with raising the debt ceiling, were president today.
Read the whole thing here.