Cops on TV: 25 Years of Valorizing the Police State
Kelly Vlahos at American Conservative squints at the 25 year history of the crummy Fox TV series Cops and finds bad attitudes, and thankfully a possible end in sight.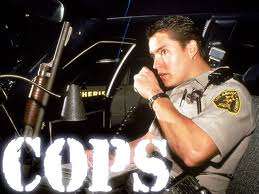 Excerpts:
For serious viewers, hearing actual police officers like Russ Martin say things like, "just a normal day, you get to tase a man," and watching one resigned black youth after another being pig-piled and hauled off by a disproportionate number of jacked-up white cops for a couple of teeny plastic-wrapped bundles of marijuana, is not entertainment, it's a cringe-fest.

"I watch these COPS shows and they show officers violating the Fourth Amendment routinely, manhandling people, not employing the escalation/de-escalation concepts of the use of force," Stephen Downing, a retired Los Angeles deputy police chief, screenwriter and producer, told TAC.

"The public is conditioned to believe that it is okay for our police to behave in this manner—they see it in fictional movies and television and they see it on COPS, so it must be okay—until they are on the receiving end and personally experience what it is like to be the victim of police misconduct."….
But Cops may soon cease stalking the TV beat:
Over the last year, the network has gradually replaced COPS in its regular Saturday night lineup with popular FoxSports programming. In November, just before launching the 25th season, co-creator John Langley announced that the network had "slashed" the number of episodes it normally orders for the year, and that COPS' future was "uncertain and problematic."….

Tellingly, the show seems to be headed for the heap but not because people aren't watching—its prime-time episodes so far this season are still generating an average of 2.7 million viewers (though viewership is down 17 percent from last year's December premiere). According to this analysis, Fox is throwing COPS over because advertisers are willing to pay more for sports programming, indicating that while its creators still talk up the show's (disputable) social value, the network's real concern is that COPS' fanbase—as with the recently canned America's Most Wanted, now at the Lifetime network—is not the kind of audience appealing to corporate advertisers.
Vlahos details the questionable "reality" of a show where producers and cops are in cahoots, and cops get final cut. And:
the show has been the target of civil rights complaints and other grievances from the start. Its producers were accused in 2011 of coercing an 18-year-old African American boy into signing a waiver that would allow them to show his face on television after he was detained (in dramatic COPS fashion — "three knees in my back and my neck") for loitering in a Tampa county park after dark. He complained later that while handcuffed in the squad car, he was told by a COPS producer that if he didn't sign the waiver, he would go to jail.

He signed "out of fear," he told news reporters, and was soon released on a misdemeanor.  Meanwhile, he's afraid his image will be out there forever, his face on the ground. "I might not be able to get a job," he said. "They show reruns and reruns."
Well, that's the price you pay for loitering in a public park. In a sense, that young man should just be thankful the cameras were there. Who knows what might have happened to him if they hadn't been? For more context on modern American police behavior, prepare to be depressed by all this Reason coverage.