Fed Adopts Employment, Inflation Targets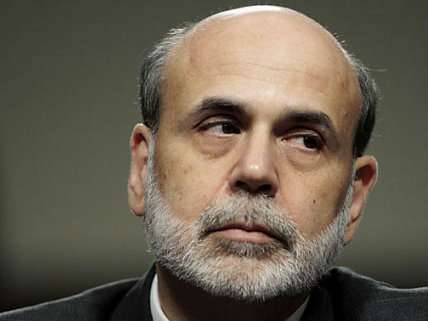 Welcome to the Era of the Fed: As Congress and the White House remain deadlocked in fiscal cliff negotiations, the Federal Reserve has announced a major new policy it says is intended to reduce unemployment. After commiting to an open-ended third round of quantitative easing (QE3) in September, the Fed now says it will continue to expand its balance sheet until the economy hits certain, predetermined targets.
In an announcement today, the Fed said that it plans to continue to keep interest rates low until unemployment drops to 6.5 percent, or until inflation hits 2.5 percent. In theory, then, there are controls either way: Too much inflation and the Fed will adjust rates accordingly; otherwise, rates will continue until unemployment drops to its target. Via Business Insider, here's the crucial bit from the Fed's statement:
To support continued progress toward maximum employment and price stability, the Committee expects that a highly accommodative stance of monetary policy will remain appropriate for a considerable time after the asset purchase program ends and the economic recovery strengthens. In particular, the Committee decided to keep the target range for the federal funds rate at 0 to 1/4 percent and currently anticipates that this exceptionally low range for the federal funds rate will be appropriate at least as long as the unemployment rate remains above 6-1/2 percent, inflation between one and two years ahead is projected to be no more than a half percentage point above the Committee's 2 percent longer-run goal, and longer-term inflation expectations continue to be well anchored. The Committee views these thresholds as consistent with its earlier date-based guidance. In determining how long to maintain a highly accommodative stance of monetary policy, the Committee will also consider other information, including additional measures of labor market conditions, indicators of inflation pressures and inflation expectations, and readings on financial developments. When the Committee decides to begin to remove policy accommodation, it will take a balanced approach consistent with its longer-run goals of maximum employment and inflation of 2 percent.
The Fed also announced that it would increase its monthly bond-buying commitment, adding $45 billion per month in Treasury bonds to the $40 billion in mortgage bonds it was already purchasing as part of QE3.
With the first two rounds of QE, the Fed set end points, essentially saying: We'll trying this for a certain amount of time and see if it works. With the open-ended third round, the Fed's message was: We'll try this until it works. Now what the Fed is doing is defining what "works" actually means. In this case, it's 6.5 percent unemployment.