Joe Manchin Complains to MTV About New Reality Show Based in West Virginia, Lack of Serious Programming
Bemoans the lack of substance on MTV without a hint of irony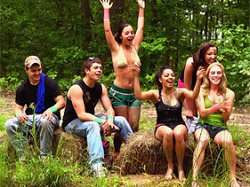 MTV is producing a "Jersey Shore" style reality show based in West Virginia called "Buckwild," set to premiere in January, and West Virginia's junior senator, Joe Manchin, is not pleased. So displeased was he that he sent MTV's president a letter.
Wrote Manchin: "As a U.S. Senator, I am repulsed at this business venture, where some Americans are making money off of the poor decisions of our youth. " Profiting off the poor decisions of youth? Sounds like the bread and butter of what some politicians do. In Manchin's view, though he's never actually seen the show, MTV "preyed on young people, coaxed them into displaying shameful behavior".
What would Manchin have preferred? MTV producing an infomercial for West Virginia, or maybe a propaganda film? Manchin continued: "Your program offers nothing about the major issues of our time: how we move our country forward, how we prepare young people to lead this country and take responsibility for themselves and how we put our finances in better shape for the next generation."
MTV's programming may not offer real talk about the country's future. But it is MTV, it's silly to expect that from them, even if they may have used to do it. Instead, Manchin ought to look at his fellow senators, many of whom who have remained as silent as MTV on the issues Manchin says he cares about. The Senate, for example, hasn't passed a budget in more than 1,200 days. And, unlike MTV, it's their job.