What's Going On With Sarasota's Police Department and its Homeless?
Cops fashioning themselves "bum hunters," an arrest for charging a cellphone in the park and now an incident at a bus station caught on tape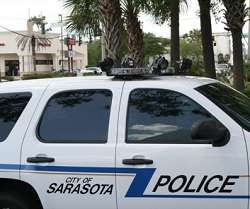 The city manager of Sarasota, Florida, Tom Barwin looks like he wanted to be ahead of the news cycle on the latest homeless-related incident with the city's police department. Barwin said he made sure an internal investigation was opened as soon as security video (below) emerged showing two cops slamming a homeless suspect into a wall at a bus station.
Just this Tuesday, as Reason 24/7 noted, the ACLU released documents showing police officers calling each other "bum hunters" and said Barwin was leading a "war on the homeless." The city manager objected, the Herald Tribune reports:
Barwin said the idea of the city waging a war on the homeless is ludicrous. Rather, Sarasota's large safety net and wealth of services likely draw homeless to the area, he said.

But the city manager said that if police officers are acting inappropriately Sarasota will not ignore it.

"If there is an individual who is communicating, thinking, behaving in that manner then certainly that is something that needs to be addressed," he said.
Earlier this month, Sarasota police arrested a homeless man for charging his cellphone in a city park (theft of utilities, $500 bail). He was in jail for his first day of work the next morning and fired. That incident included the electricity being shut down for the park with no one taking responsibility. The homeless man suggests police may have targeted him after he took a photo, he claims, of an arrest of another homeless man smoking a cigarette. With treatment like that, it's no wonder the homeless are drawn to the area?