Three Groundbreaking Victories for Gay Marriage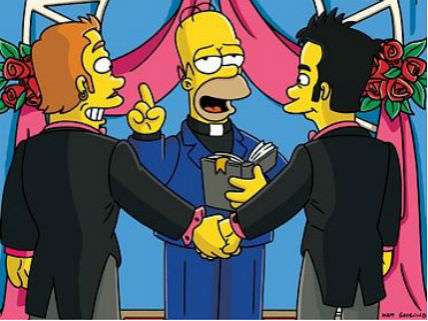 Tonight was a good night for gay marriage as well as marijuana. Voters approved ballot measures legalizing same-sex marriage in three states by similar margins: 53 to 47 in Maine, 52 to 48 in Maryland and Washington. In Minnesota an initiative that would amend the state constitution to ban gay marriage is tied right now, with 75 percent of precincts reporting.
This is the first time gay marriage has been legalized by popular vote. In the six other states where it is legal (Connecticut, Iowa, Massachusetts, New Hampshire, New York, and Vermont), the policy was enacted by the legislature or compelled by a court decision. By contrast, most of the state laws allowing medical use of marijuana—another one of which passed tonight in Massachusetts—have been enacted by voters. (Colorado and Washington both had such laws before broadening the policy to include recreational use.) But public opinion about gay marriage has followed a trajectory similar to public opinion about marijuana legalization, breaking 50 percent support in national surveys only recently. The same dynamic seems to be at work, in which familiarity breeds tolerance instead of contempt. There is something encouraging to think about if you are depressed by the more-of-the-same national election results.
Update: With 87 percent of precincts reporting, the no votes on Minnesota's Amendment 1 have pulled ahead of the yes votes, 51 percent to 47 percent. Assuming this pattern holds, it will be only the second time a state constitutional amendment banning gay marriage has been defeated. The other example is Arizona's Proposition 107 in 2006.
Update II: The Minnesota marriage ban was defeated, 51 percent to 48 percent (1 percent of voters left that part of the ballot blank). Rea Carey, executive director of the National Gay and Lesbian Task Force, says, "This landmark victory is yet another example of the national momentum toward treating all families fairly. Congratulations to Minnesota for recognizing and affirming our common humanity by rejecting this unnecessary and unfair amendment."