Meet the Three Coloradans Who May Legalize Marijuana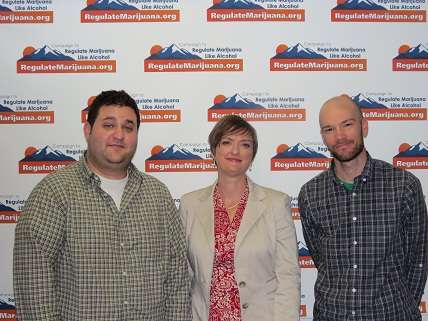 DENVER—The three left-leaning activists running the Yes on Amendment 64 campaign to legalize marijuana in Colorado always bring jackets to their poorly heated third floor digs. Victory is within their grasp and they only have one more week of toiling in the unassuming building that houses their historic two million dollar effort. The last effort to legalize marijuana in Colorado was such a shoestring operation that they ran it out of their own home and spent the majority of their campaign funds to qualify for the ballot. They failed. Now, the people of the Campaign to Regulate Marijuana Like Alcohol have the opportunity to radically reshape American drug policy in a way that was unimaginable over a decade ago, all while shivering about one mile from Coors Field.
Betty Aldworth, the campaign's advocacy director, and Mason Tvert, the co-director of the campaign, have their own oddly shaped offices on one side of the floor. The awful bluish green shag carpet stares up at a rickety drop ceiling. Everyone can see everything on this side of the floor as the individual offices are divided by massive windows framed in pine. Tvert's desk is so large that you can barely open the door to his office and you wonder how they ever managed to fit it in there. Brian Vicente, the other campaign co-director, has his own office adjacent to the campaign's multi-purpose war room. Flanked by couches with jacket-clad volunteers making phone calls to potential supporters, it's packed with professional looking campaign literature, and a press conference backdrop for TV appearances. There are no posters of pot or Bob Marley anywhere. This is a real operation, albeit a frequently chilly one.
The Field Director
Aldworth copes with the cold by wearing a long sweater-jacket in her office where low-profile filing cabinets are covered in pro-marijuana stickers. She's worked on a variety of campaigns at the state and local level as well as with that national liberal organization MoveOn. This is her first campaign where she has worked on field operations and she is confident as they're just wrapping up their canvassing operations. "We got really extensive and robust campus work that we're doing, getting the vote on campus, with young people," said Aldworth, noting that they've partnered with Students for Sensible Drug Policy to help out in this effort.
Even though they've identified who their typical supporters are by making phone calls and knocking on-doors—something unusual for a marijuana legalization initiative—she doesn't think they have a clear idea of who their typical supporter is because, well, there isn't one. "Young adult voters tend to be more supportive on this issue but I also talk to people in their 90s that actually remember the Volstead act. They tell me, 'alcohol prohibition failed and marijuana prohibiton is a similar failure and I am voting yes on amendment 64 because I see that,'" she said.
She is confident that their messaging on marijuana being similar to alcohol is resonating with such a huge swath of the electorate that they don't really need to identify their typical voters. The "marijuana is just like alcohol and should be regulated as such" messaging they are employing is a purposeful effort to change the way people think about the plant.
The Journeyman
When I meet up with Tvert in his campaign office he has brought his dog to work because the animal is sick. Not only is his dog, Charlie, sick but there are also extra blankets in the laundry bin to keep him warm. For Tvert, an Arizona native, this campaign is something he's been working toward since 2004 when he first started working on marijuana policy reform. In 2005 and 2007 he ran successful initiatives that decriminalized marijuana in Denver and made it the lowest priority for law enforcement in Denver, respectively.
In 2006 he headed up the first marijuana legalization campaign in Colorado. Tvert spent the majority of that campaign pulling all kinds of free media stunts because they had almost no financial resources after they got on the ballot. It was as much about winning as it was about starting the conversation about marijuana legalization. The 2006 effort, known as Amendment 44, did not contain any of the regulatory provisions that 64 does. Still, the 2006 experience was important for the marijuana reform movement because it provided them valuable statewide campaign experience; even more important, it got Colorado talking.
"At the time we ran that initiative with a desire to win but with the expectation of losing and the goal of inspiring public discussion about the issue that would move things forward," Tvert said.
Not only is the electoral climate better in 2012 for a variety of reasons, but the campaign they're running is light years ahead of what they attempted in 2006. They have seven paid staff members now instead of just three in 2006. They're running a multi-platform advertising campaign worth upwards of, what they estimate, is about $1.5 million statewide. When Tvert first attempted this in 2006 they raised just over $200,000 and relied on eye-catching billboards in hopes of generating free media coverage. Even though they lost their free media plan worked in attracting attention. When Drug Czar John Walters visited Colorado they placed an ad on a billboard near where he was speaking with a big picture of him and a quote from him saying marijuana is "the safest thing in the world." Thanks to this one time billboard expenditure, they received extensive media coverage.
"We didn't want to have a debate about taxes, we didn't want to have a debate about how it should be regulated, we wanted to have a debate about should adults be allowed to use a less harmful substance than alcohol and everything was geared around that message," he said.
The ad campaign they are running now looks professional and that's part of the reason Tvert is cautiously optimistic about winning on Election Day.
"I think we have a very good chance of winning but it's definitely going to be a very close election," Tvert said
The Lawyer
The cool doesn't bother Vicente too much but that hasn't stopped him from wearing both a long-sleeve plaid shirt and a long-sleeve thermal to the office when I interviwed him. Vicente has worked in marijuana reform for years, getting his start with the Marijuana Policy Project in the mid-2000s. His most recent electoral effort was the successful passage of an initiative to legalize marijuana in the Colorado ski town of Breckenridge. When he's not agitating for the legalization of marijuana he's busy working at his legal practice, Vicente Consulting, where he helps medical marijuana patients involved in legal cases.
He sees the 2012 effort as potentially groundbreaking for legalization advocates because not only are they close to winning but they have laid the groundwork for future states to follow. Part of the reason for this is that the medical marijuana system in place in Colorado helped guide them. Today there are an estimated 500 medical marijuana dispensaries throughout Colorado and the heavily regulated industry is booming statewide.
"It sets up a real framework for how it works instead of just legalizing an ounce and letting the system sort itself out," he said.
The system Colorado put in place when it first legalized medical marijuana usage wasn't perfect, but over time things smoothed out and now, he thinks, the state is the national model for marijuana reform. Previous efforts that lacked teeth and enforcement failed because there weren't enough rules.
"We need strict regulations. This isn't growing tomatoes or something, this is similar to producing beer," he said.