Brooklyn D.A. Drops Charges Against Man Beaten by Cops at Jewish Learning Center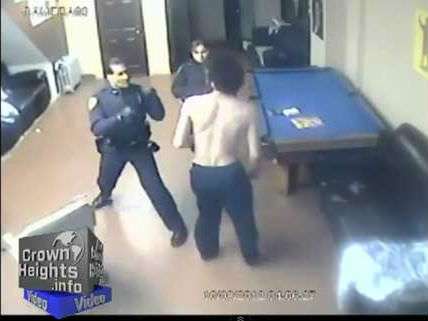 Yesterday Brooklyn District Attorney Charles J. Hynes dropped all criminal charges against Ehud Halevy, the man police accused of assault after beating him at a Jewish learning center in Crown Heights. Elaborating on earlier accounts, The New York Times explains that a volunteer at the Alternative Learning Institute for Young Adults (ALIYA), where Halevy had been sleeping on a couch for a month, called police after encountering him in the center's lounge. The volunteer, who did not realize that ALIYA's director, Rabbi Moshe Feigli, had given Halevy permission to stay there, told the cops he was trespassing. That detail helps explain why Officers Luis A. Vega and Yelena Bruzzese did not believe Halevy's claim to be an invited guest. But it does not explain the violence that followed, which featured Vega "assuming a boxer's stance and punching Mr. Halevy in the head in successive blows" and Bruzzese "striking Mr. Halevy with a baton for more than two minutes." Nor does it explain why Vega and Bruzzese lied about the encounter, saying Halevy had attacked them, when in fact he merely pulled his arm away after Bruzzese and Vega grabbed it in an attempt to force him out of the building.
Had the beating not been recorded by a surveillance camera, Halevy probably would still be facing up to five years in prison for assaulting a police officer, plus various misdemeanor charges. The Times reports that Halevy's lawyer, Norman Siegel, "asked the district attorney to bring criminal charges against the two officers, pointing out that it was a misdemeanor for the police to make 'false statements.'" Vega is on restricted duty while the D.A. and the NYPD's Internal Affairs Bureau investigate the incident. At a press conference last week, Rabbi Feigli, who called himself "a great supporter of the New York Police Department," wondered "how many other times New Yorkers are charged with serious crimes and there's no video camera to tell the story."