Support for Marijuana Legalization Slips in Colorado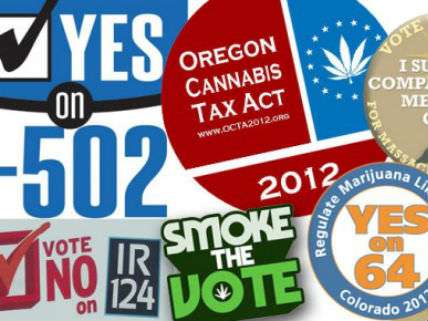 A new SurveyUSA poll shows support for Colorado's marijuana legalization initiative, Amendment 64, slipping from 51 percent last month to 48 percent. Opposition, meanwhile, rose from 40 percent to 43 percent, with 9 percent still undecided. The poll's margin of error is four percentage points.
Washington's legalization intiative, I-502, so far has retained majority support, with the latest poll, taken at the end of September, finding 57 percent of voters in favor. In early September a SurveyUSA poll found more oppostion than support for Oregon's initiative, Measure 80: 41 percent vs. 37 percent, with 22 percent undecided.
I discussed the possibility of a state rebellion against marijuana prohibition in a column last month. A new Reason TV video asks, "Are We in the Final Days of Marijuana Prohibition?"
Addendum: Over at Salon, David Sirota argues that Amendment 64, combined with Gary Johnson's presidential campaign, could swing Colorado to Romney rather than Obama, as conventional wisdom holds. Sirota cites a new robocall message urging Colorado Democrats angry about Obama's broken promise of medical marijuana tolerance to vote for Johnson.
[via the Drug War Chronicle]