Most Americans Are OK With Drone Strikes, Rest of the World Mostly Unconvinced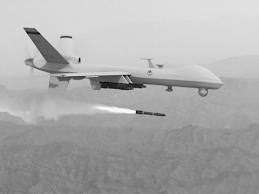 According to Pew, most Americans approve of the United States' drone war campaign. Sixty-two percent of polled Americans approve of strikes against suspected militants in foreign countries.
Although most Americans support the war America wages with UAVs, the rest of the world is mostly disapproving. Interestingly, disapproval is global, with people from countries in Latin America, Europe, Asia, and the Middle East, all expressing overwhelming dissatisfaction with America's drone campaign. From RT's reporting on the study:
In Greece, 90 percent of those surveyed condemn America's drone strikes, followed closely by Egypt's 89 percent.

Drone strikes are also condemned in Jordan (85 percent), Turkey (81 percent), Spain (76 percent), Brazil (76 percent) and Japan (75 percent).
The drone campaign being executed abroad might be enjoying popular support in the United States in part because of some commonly believed myths about the comparatively humane and accurate methods used in the strikes. While many might like to think that drones strikes minimize civilian casualties the reality is a sobering reminder of the contrary. A joint Stanford and NYU study on U.S. drone strikes found that the number of "high level" targets killed account for perhaps only 2 percent of the total casualties inflicted and act as powerful recruitment material for some rather unpleasant people (full report here):
The strikes have certainly killed alleged combatants and disrupted armed actor networks. However, serious concerns about the efficacy and counter-productive nature of drone strikes have been raised. The number of "high-level" targets killed as a percentage of total casualties is extremely low—estimated at just 2%.[4] Furthermore, evidence suggests that US strikes have facilitated recruitment to violent non-state armed groups, and motivated further violent attacks.
It probably doesn't help the cause of stability in the Middle East that the Yemeni president acknowledges that he approves of every drone strike carried out by the U.S. on his country. Abed Rabbo Mansour Hadi might approve, but if the recent terrorist attacks against his government's officials (often times in response to missions against Al Qaeda) are any indication the drone strikes are not achieving their objective.
In continuing drone strikes abroad the U.S. government has seemingly cast aside the battle for hearts and minds. In Pakistan, where many of these drone strikes occur, 74 percent of Pakistanis polled view the United States as an enemy. Turns out having a bombs dropped on your country and having fellow countryman killed by unmanned aircraft doesn't help endear you to the United States.
The attitude Americans have about foreigners being harassed by drones is very different to the attitude we have about drones over our own heads. As Scott reported last week, slightly over a third of Americans "oppose" or "strongly oppose" police departments getting their own unmanned drones. You've got to draw the line somewhere, right?