It's Cute That Janet Napolitano Avoids Email So Nobody Can Catch Her Breaking the Law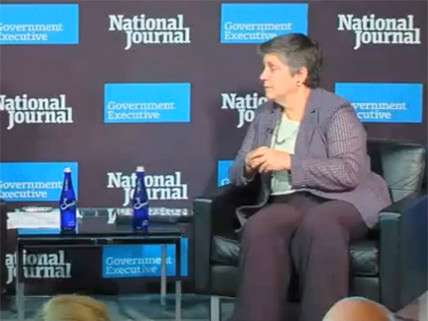 Homeland Security Secretary Janet Napolitano, claimed in an interview today that she doesn't use email.
Worse, the Homeland Security Department's chief executive tried to use this claim as a laugh line.
"Don't laugh but I don't use email at all," Napolitano said during a panel at, of all things, a Cybersecurity Summit hosted by National Journal and Government Executive.
When asked for an explanation for that perverse habit, Napolitano said, "For a whole host of reasons."
Washington Examiner Executive Editor Mark Tapscott describes what some of those reasons might be in an article about Christopher C. Horner's new book The Liberal War on Transparency:
* While working as deputy White House chief of staff, President Obama's current campaign manager, Jim Messina, used his AOL account to orchestrate the controversial deal by which drug companies lobbied for and ran ads supporting passage of Obamacare, which was just one example in a government-wide trend.

* Political appointees at another federal agency who found a clever way to not only use private email accounts but to rig the system automatically to remove all traces of them from government servers.

* The U.S. Environmental Protection Agency created secret email accounts that few there knew about and no one apparently can now access, according to an internal document, thus calling into question EPA's compliance with certain laws and lawsuits.
I have not read Horner's book, but we already have evidence from the Solyndra case of Obama administration staffers hiding their correspondence from the public. "Don't ever send an email on doe email with a personal email addresses," former Department of Energy official Jonathan Silver wrote to an incautious underling in August 2011. "That makes them subpoenable."
What makes Napolitano think anybody would laugh at her admission? The most charitable thing you can say is that it shows her to be unfit for a job that involves overseeing important parts of the American online security apparatus. And that seems to be the interpretation she wants us to take away. "I don't have any of my own accounts," she said in the interview. "Some would call me a Luddite."
Related: DMX gets his first look at teh Googles: