Spain and Greece Take Steps Towards Austerity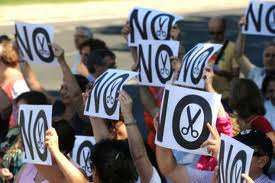 The Spanish government has unveiled its 2013 budget. If the protests of the last few days are anything to go by chances are it might not be as well received as many in the Spanish government might like.
The austerity budget includes the following (the last one in particular sounds oddly familiar):
a 12% average cut in ministerial spending

a freeze in public sector pay for the third consecutive year

a new independent authority to monitor government finances

an increase in pensions funded by drawing on 3bn euros of reserves

a new 20% tax on lottery wins above 2,500 euros (£2,000; $3,200)

a new car scrappage scheme
On the other side of the Mediterranean, Greek politicians are looking closer to an agreement on austerity measures for 2013-14 ahead of negotiations with international lenders. The agreement has to go before the Greek parliament for approval. Without these austerity measures being met Greece will almost certainly have to default on its debt in the coming weeks.
Both Spain and Greece have experienced protests this week against the austerity programs being proposed by the Spanish and Greek governments. In Spain, the unrest over the measures being pursued by the central government is only part of the story. From Forbes:
Beyond its economic crisis, Spain is mired in a political crisis as well. The autonomous regions are all running out of cash, putting further pressure on Madrid to request the bailout (the EU has already committed up to €100 billion ($128.6 billion) to bailout its banks). Already, five of regions (including Valencia, Catalonia, and Andalucia) have taken about 90% of a regional liquidity fund, leaving less than €3 billion ($3.9 billion) for the rest.

And Catalonia, the rich and highly autonomous region where Barcelona is located, is on the verge of holding a referendum on independence.
Even with the new budget Spain may well be asking for more assistance from its European neighbors soon. The Spanish government is under some pressure to take part in the European Central Bank's bond buying program. Thus far the cigar smoking Prime Minister, Mariano Rajoy, has yet to seek such assistance.