Thank God Politicians Are Weighing In On Packers/Seahawks Officiating [Updated with nervous Romney laughter and comment]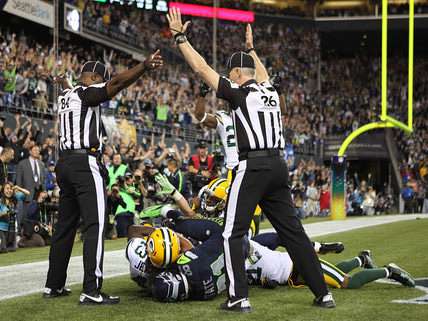 If you're still sore over the bad call that turned the result in last night's game between the Green Bay Packers and the Seattle Seahawks, there's good news on the horizon. American politicians, including (twice!) the president of the United States, are giving their own opinions.
That's a big relief, and not just because it's always good for the American people when elected officials (especially presidents) get involved with professional sports. With so many pols having free time to comment on the outcome of a football game, we can rest assured that all the country's big problems have been solved:
Vice-presidential candidate Rep. Paul Ryan (R-Wisconsin)
Give me a break. It's time to get the real refs. And do you know what, it reminds me of President Obama and the economy. If you can't get it right, it's time to get out.
President Barack Obama
NFL fans on both sides of the aisle hope the refs' lockout is settled soon. -bo
Wisconsin State Rep. Tyler August
Hey @danecci @necci4da when ur sworn in ur 1st action should be to file charges against those refs from last night cause that was a robbery.
New Jersey Senate President Stephen Sweeney
This past weekend in the NFL has not only made a mockery of a great sport, but shined a very bright light on how important fully trained and professional officiating is to player safety. We wouldn't allow a factory or construction site to operate without fully trained supervisors on hand to ensure the safety of employees. Why should we do anything differently when the job site is a playing field?
Wisconsin Gov. Scott Walker
After catching a few hours of sleep, the #Packers game is still just as painful. #Returntherealrefs
President Barack Obama
Terrible. I've been saying for months, we've gotta get our refs back.
Wisconsin State Sen. Jon Erpenbach
If tonights game doesnt make the NFL settle with the real refs this season will be a joke…
You can leave a message for nfl commish roger goodell at 212 450 2027. #NFL
Former President Bill Clinton
I would not have called that last play the way they did in that Seattle-Green Bay game last night. The Packers will wake up this morning and just sort of shake their head and say: "We should have won by two touchdowns."
Wisconsin State Sen. Chris Larson
People end up thinking you can get good work for cheap, you can always find a cheaper way and it's going to be just as good a result. I would hope that Scott Walker is just as outraged about decreased quality of teachers that we're going to get as he is with replacement refs in the NFL.
Update:
Republican presidential candidate Mitt Romney finally releases his views on the refs lockout:
I'd sure like to see some experienced referees, with NFL experience, come back out to the NFL playing fields.
When will Vice President Joe Biden speak out? How can he not have an opinion on the Seattle Giants or the San Francisco Packers when he has a comment on every other topic? What is Biden trying to hide?