Recording Police Encounters? There's An App for That.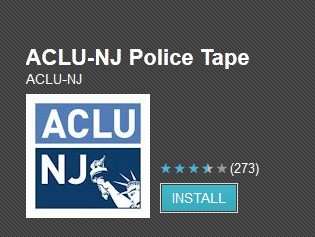 There are a variety of smartphone apps that might be useful for recording police encounters. The best ones either make it difficult for police to delete recordings, or stream them to secure servers in the cloud so that they're beyond reach of even the most publicity-shy keeper of the peace. But the American Civil Liberties Union of New Jersey offers an app that's purpose-designed for monitoring police without them noticing, and for keeping the resulting recordings safe and delivering them, at your discretion, to the ACLU for review. From the ACLU's write-up: 
The iOS "Police Tape" app, which works on iPhone and iPad devices, records audio discreetly, disappearing from the screen once the recording begins, which prevents any attempts by police to squelch the recording. In addition to keeping a copy of the audio recording on the phone, the user can choose to send it to the ACLU-NJ for backup storage and analysis of possible civil liberties violations.

More than 35,000 people have downloaded the Police Tape app since it was released in July. The app is intended for use in New Jersey where the law allows citizens to record the actions of police officers in public, even without their knowledge.
The excerpt above refers to "audio" but the app also records video (though probably not so discreetly as it captures sound). In addition to its recording abilities, it includes an electronic copy of the ACLU's "Know Your Rights" summary of individual rights and advice on what you should and shouldn't do in various police-encounter scenarios.
While the Police Tape app is designed for New Jersey's legal environment by the ACLU-NJ, there's no reason it shouldn't be useful elsewhere, so long as you keep an eye on local recording laws — especially since it's generally wise to not advertise to police that you're recording an encounter anyway.
Download the Android version here.
Download the iPhone/iPad version here.
And don't miss Reason's advice on recording your dealings with the forces of law and order, and rules to consider for the same.