Pennsylvania State Troopers Discover that Pepper Spray Hurts People
It matters because it hurts them, too.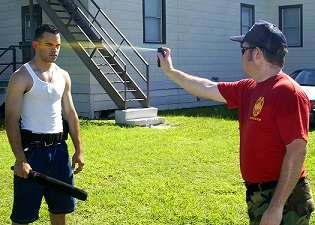 Apparently it didn't bother Pennsylvania's state police that their pepper spray hurt people who were not police officers. But once they discovered state troopers were not magically immune to the effects it became a problem. WPXI channel 11 reports:
Target 11 Investigator Rick Earle has learned that state police officers will no longer be allowed to carry pepper spray.

Earle reported that the decision came after several cadets suffered injuries during a training exercise. The cadets reportedly suffered eye injuries after exposure to the defense technology MK-4 pepper spray.

"A recent training exercise revealed that this pepper spray presents a significant risk of causing eye injuries to subjects who are exposed to this product," said state police Trooper Maria Finn.
Now it's possible they're referring to a particular brand of pepper spray being more dangerous and damaging than others, but they're really just figuring this out? Isn't this sort of training through exposure common for cadets? State police used pepper spray during a riot at Penn State last November over Joe Paterno's firing, so it's not like they were treading new ground. Granted state troopers may not need to call on force as frequently as municipal police departments might, but the Pennsylvania State Police website offers all sorts of training services to these other departments. It's a bit remarkable that they didn't know the full impact of the tools they were using before they started using them.
But if that's what it takes to get police to realize these "less-than-lethal" tools don't mean "not dangerous – please use whenever somebody pisses you off!" then so be it. Though it may result in an increase in Taser use, and there have been plenty of terrible outcomes from the application of that tool as well.
(Hat tip to Eric Boehm of the Pennsylvania Independent)