Sheriff Joe: Obama Hasn't Deported Enough People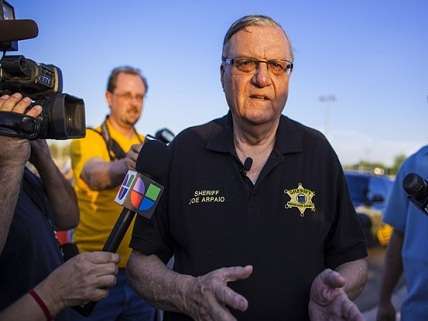 Tampa – America's most famous sheriff, Joe Arpaio of Arizona, was milling about the Republican National Convention, pausing for photos and signing autographs for fans. As a tough-talking sheriff who loves the spotlight, Arpaio has built a substantial following with his record on immigration as well as his controversial police practices.
Arpaio is notorious for conducting large police sweeps in minority communities that tend to be heavily populated with legal and illegal immigrants. His actions as Maricopa County Sheriff have resulted in a class action civil rights lawsuit as well as federal investigations. He investigated the authenticity of the birth certificate of President Obama while his administration was deporting more immigrants than any president in history. Obama's record on immigration, though, does not impress "America's Toughest Sheriff."
"I think I gotta get some credit for that. I locked up 51,000 of 'em," Arpaio said when asked about the million-plus deportations that have taken place during the Obama administration.
Arpaio scoffed at the idea that Obama was tough on immigration scofflaws, suggesting Obama he isn't deporting enough illegal immigrants.
"[Obama's record deportations] shows you what a big problem we have. You can't deport people if they're not here illegally," he said.
Even though Mitt Romney's immigration policy fails to mention deportation, it gets a thumbs up from Arpaio.
"I think it's pretty good. No amnesty, nothing about the Dream Act," Arpaio continued. "I think he mentioned that when he becomes president he's gonna look at the whole picture but that's what has to happen."
It's not just Obama's handling of immigration issues that disappoint Arpaio, but also the president's handling of the drug war.
"When we talk about the border we shouldn't just talk about immigration," he said. "In order to win the war on drugs and illegal immigration the president needs to make it a top priority in foreign countries and in the United States."
Arpaio, a veteran of drug enforcement operations in Mexico, said that the federal government needs to step up its aid south of the border, so the legendarily corrupt and ineffective Mexican government can combat the drug war more efficiently.
When asked whether he thought the drug war was winnable he said, "Yeah, it will be tough but we can win it."