Alabama Cop Roughs Up Disabled Woman for Taking Pictures at a High School Football Game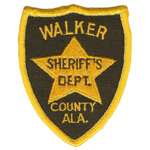 A disabled woman in Walker County, Alabama is suing the Walker County Sheriff's Office after one of its officers roughed her up for taking pictures at a high school football game. The officer's name is Lowell Adam Hadder, and the court filing indicates this is the fifth time he's been sued for a civil rights violation.
According to the suit, Dudley Benson asked Kathy Sanford to photograph his grandson's last football game at Curry High School on Oct. 28, 2011, "because of Ms. Sanford's acumen in photography." (Curry is a public high school.) After the two took their seats, Sanford made her way to the sidelines and started snapping photos. That's where she first encountered Hadder:
Defendant Hadder noticed Ms. Sanford's picture taking and determined that she should be made to return to her seat in the stands.

Defendant Hadder approached and threatened Ms. Sanford that if she did not move off the sidelines, "you are going to jail".

At that point, Ms. Sanford left the sidelines and returned crying to the stands where Mr. Benson was located.
Benson then confronted Hadder:
Although, Mr. Benson was at the time seventy-five (75) years of age and was recovering from shoulder surgery and broken ribs, he went to Defendant Hadder to determine what the problem was that had lead to Ms. Sanford being upset and asked why she was not allowed to take pictures.

Defendant Hadder became angry that Mr. Benson had questioned him and directed him to leave and then escorted Mr. Benson outside the gate.

Mr. Benson complied and once outside the gate began to explain to Defendant Hadder of Ms. Sanford's physical and emotional issues as a result of the motor vehicle accident.
At this point, Hadder "calmed down" and returned to the game, where he saw Sanford taking pictures from her seat in the stands, per his instructions. But then Hadder thought that maybe Sanford was taking pictures of him, at which point he "became outraged and determined that she should be made to leave the game."
Hadder escorted Sanford out of the stands out to the parking lot. When Sanford stopped to look for her car, "as is common when parked in a large parking lot," Hadder "grabbed and assaulted Ms. Sanford, who Defendant Hadder describes as weighing 'about ninety pounds', by taking her by her arm and throwing her to the ground in the parking lot and grabbing Ms. Sanford's arms and binding her in hand cuffs."
Hadder then called a patrol car and had Sanford charged with criminal trespass. At her trial in March 2012, Hadder not only confirmed Sanford and Dudley's record of events, but defended himself by saying, "I am also trained in pain compliance so if I had to I could have induced pain for compliance but I didn'thave to." That's probably because Sanford, who has brain damage and walks with a cane as a result of her accident, didn't resist him in any way.
Sanford was declared not guilty by the Alabama judge who heard the trespassing case. Her suit is one of four pending against Hadder and the Walker County Sheriff's Office (a fifth suit, filed after Hadder and several of his off-duty colleagues assaulted a young man in Tuscaloosa, resulted in a ruling against Hadder and the other officers.)
Reason.tv on the War on Cameras: