How Congress Helped Cause the Doctor Shortage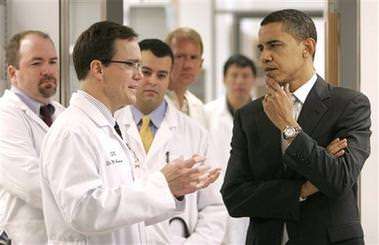 Before ObamaCare passed, projections indicated that the United States would be facing a substantial doctor shortage by the end of the decade. Because the new health law expands health coverage, it's also expand to increase demand for health care. But ObamaCare does almost nothing to remedy this.
So is ObamaCare just exacerbating a problem that already existed in the market? Not exactly. As a piece in Bloomberg News explains, Congress placed limits on the number of doctors who can enter the system each year, effectively capping supply and prohibiting it from responding to increasing demand:
With a shortage of doctors in the U.S. already and millions of new patients set to gain coverage under President Barack Obama's health-care overhaul, American medical schools are struggling to close the gap.

One major reason: The residency programs to train new doctors are largely paid for by the federal government, and the number of students accepted into such programs has been capped at the same level for 15 years. Medical schools are holding back on further expansion because the number of applicants for residencies already exceeds the available positions, according to the National Resident Matching Program, a 60-year-old Washington-based nonprofit that oversees the program.

…There's no easy solution. Boosting the number of taxpayer- financed training slots beyond 85,000 would require Congress to allocate money at a time of contentious budget debates. Adding private financing means tapping new sources of cash, such as from health insurers. Importing doctors from overseas is controversial. And training doctors is long-term work, taking as many as 10 years.

Teaching hospitals quadrupled their lobbying budget last year to $2.8 million, according to the nonprofit Center for Responsive Politics in Washington. They support bipartisan legislation introduced this month that would add 3,000 residencies a year through 2017 at a cost to taxpayers of about $9 billion. Deficit-watching Republicans, including Price, say private funding needs to be identified instead.
As my colleague Shikha Dalmia has noted, all this is done in collusion with the American Medical Association, a trade group representing doctors. They're happy to take public funding, and they're also happy to enforce artificial limits on the supply of doctors, which ensures that their fees stay high.