FCC, 0 for 3
SCOTUS on censorship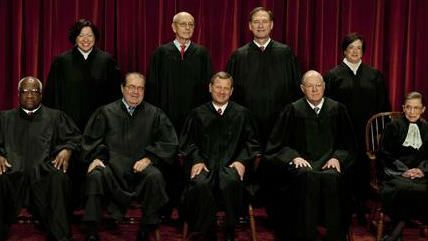 When the Supreme Court agreed to hear a case involving the Federal Communications Commission's ban on broadcast indecency, it had a chance to address fundamental First Amendment questions about government censorship of the airwaves. But in June the Court shrugged off the opportunity, choosing instead to overturn three FCC decisions on narrow due process grounds.
FCC v. Fox involved three instances in which the FCC concluded that broadcasters had violated its indecency ban: two uses of four-letter words by celebrities on live award shows broadcast by Fox and an episode of the ABC cop drama NYPD Blue in which a female character's bare behind was briefly visible. In all three cases, the FCC's notices of liability were based on rules established after the alleged violations.
Writing for the majority, Justice Anthony Kennedy noted that the regulatory history "makes it apparent that the Commission policy in place at the time of the broadcasts gave no notice to Fox or ABC that a fleeting expletive or a brief shot of nudity could be actionably indecent; yet Fox and ABC were found to be in violation." The Court unanimously concluded that the lack of prior notice rendered the FCC's standards impermissibly vague in these instances.
The decision was a loss for the FCC but a punt on the question of whether the indecency policy is so vague that its chilling effect on speech violates the First Amendment (as a federal appeal court had concluded), not to mention the issue of whether broadcasting should continue to receive less constitutional protection than other media. As the Court emphasized, "this opinion leaves the Commission free to modify its current indecency policy in light of its determination of the public interest and applicable legal requirements and leaves courts free to review the current, or any modified, policy in light of its content and application."