Cops Shoot Dog During Foot Chase; Petition Started for "Justice for Monkey"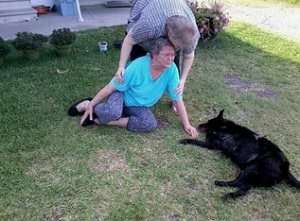 Police officers in Lake Charles, Louisiana shot and killed a family dog named Monkey while chasing a suspect, according to an online petition calling for the police department to fully investigate the incident.
According to the local NBC affiliate KPLC:
It happened yesterday at a house on Hodges Street in Lake Charles where the dog named "Monkey" was allegedly shot multiple times.

The shooting reportedly occurred when the dog began barking at police who were chasing some suspects.

Lake Charles Police spokesman Mark Kraus says they are investigating the shooting. 
And from the petition:
"Monkey" was more than a pet she was as close to a family member as anyone or anything could be. Monkey was shot by a Lake Charles Police Officer or Officers. She was shot multiple times after she ran out a gate that was left open by a suspect being chased by the officers. Now our beloved monkey is gone because she was considered a potential threat to the officers. If anyone knew monkey they know she was not any threat to anything. 
Recent puppycides
UPDATE: Details of the police chase from KPLC, via commenter Jerry