North Las Vegas Says Deficit Constitutes an Actual Disaster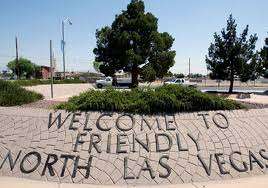 As Stockton, Calif., leaders prepare to vote Tuesday to declare bankruptcy due to deficits fueled (as pretty much all of California's debt has been fueled) by pension increases and development expenses incurred when the economy was booming, North Las Vegas, Nev., is attempting a different strategy: declaring their city a disaster area in order to get out of some costs.
Via the Assocated Press:
After five years of declining property taxes, massive layoffs and questionable spending, leaders of the blue-collar, family-oriented city outside Las Vegas declared a state of emergency, invoking a rarely used state law crafted for unforeseen disasters.

No matter that the statute, which allows municipalities to suspend union contracts and avoid paying scheduled salary increases, doesn't actually include fiscal emergencies among the list of potential disasters.

"It says, in case of 'emergency such as.' You can't list how many different types of emergencies there are in the world," City Council member Wade Wagner said of the move, which will save the city $9 million.
Maybe they got the idea from website Pension Tsunami?
Stockton had attempted a similar trick, but was met with legal challenges. Unions are mounting their own challenges in North Las Vegas:
Union workers, long among the highest compensated government employees in southern Nevada, claim the city won't be able to defend the emergency designation in court. The police union filed a lawsuit Friday claiming the city was misusing the law.

"Everybody in the city is basically using all their time and all their effort to try to break the unions," said Sgt. Leonard Cardinale, president of the North Las Vegas Police Supervisors Association.

Public perception turned against the city's public safety workers after some union leaders put up billboards last year that read: "Warning: Due to recent police layoffs, we can no longer guarantee your safety!"
North Las Vegas has nearly doubled in population since 2000, and stood at around 220,000 in 2010. But it has been hit hard by the recession: Unemployment for North Las Vegas in March 2012 was measured at 14.3 percent, almost three percentage points higher than the state average. Like Stockton, the city spent its boom years growing the size of its government, adding staff, building parks and starting construction on a new City Hall.