Bradley Manning Thanks Supporters; New Federal Probe into National Security Leaks Likely to Include White House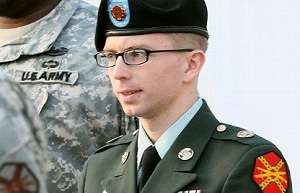 Private Bradley Manning's attorney, David Coombs, posted a message to Manning's supporters as the private's court martial continues:
I would like to publicly thank all those who have supported my client over the past two years.  I also want to pass on the following message from Brad:  "I am very grateful for your support and humbled by your ongoing efforts."  Brad also asked me to specifically thank on his behalf the unflinching support of Courage to Resist and the Bradley Manning Support Network.
Private Manning was arrested in May 2010, accused of leaking various State documents to Wikileaks. Army investigators claim the private is responsible for Wikileaks' receipt of video showing U.S. strikes killing Iraqi civilians and Reuters journalists. The military confirmed the video's authenticity, but apparently couldn't find its own copy. Manning is also accused of leaking the State Department diplomatic cables Wikileaks released later that year.
Manning was detained for nearly two years before being ordered to stand trial in February. His trial starts in September November and the "Article 39" pre-trial hearing began in April. Manning's attorneys said they've received only 28 of 63 requested documents, and that they show the damage caused by the Wikileaks leaks was minimal. Government prosecutors admit they've only made 8,741 of more than 40,000 pages available to Manning's defense attorneys.
Meanwhile, the origin of a wide array of timely and politically beneficial leaks on sensitive national security workings of the executive branch is disputed, with the president calling the notion that the leaks would come from the White House "offensive". A pair of federal prosecutors are nevertheless likely to include the White House in their probes of the leaks.