Deputies Help Californians Understand How Black Market Works by Selling "Unapproved" Guns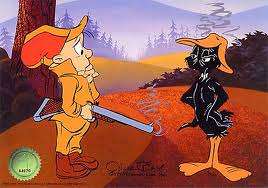 Two Sacramento deputies face federal charges for selling guns  that officers and active military members are allowed to own, but not us dumb, hapless non-uniformed folks. According to KTVU in San Francisco, at least two of the guns ended up in the hands of criminals and one was used in a police standoff:
U.S. Attorney Benjamin Wagoner said the deputies were charged with serving as straw buyers by purchasing the restricted handguns. They then sold the handguns at a profit to unqualified buyers through licensed dealers, prosecutors said.

California law bars citizens from buying handguns that have not been deemed safe by the state Department of Justice, but the law exempts peace officers. The deputies are accused of using their peace officer exemption to buy dozens of weapons over more than a year then selling them to others for a profit.
Yes, they're facing federal charges for selling guns the state of California deems unsafe for the public. If you're not quite sure what that means, they explain:
The weapons include easily concealable semiautomatic pistols that shoot high-velocity .223 caliber bullets, the same long-range ammunition used by the U.S. military for its M16 and M4 rifles.

Also sold were handguns that fire .50 caliber pistol bullets, a less powerful version of the same large-caliber round used in machine guns and sniper rifles. Investigators say semiautomatic handguns built to look like Israeli-made Uzi submachine guns were also bought and sold.

The state Department of Justice also restricts sales of other models of handguns with features that may have advantages for law enforcement but aren't considered safe for the general public. For instance, the department's standards require that semiautomatics can't be fired if the magazine is removed, to prevent the accidental firing of a bullet left in the chamber. They also require a visible indicator if a round is in the chamber ready to be fired.
The stories are not clear as to why the deputies face federal charges for violating state law. They funneled the gun sales through a licensed dealer, but it's possible the mandated process outlined in the Brady Handgun Violence Protection Act was not followed, given that two ended up in the hands of criminals.