Outdated Law Behind Scott Walker Recall
More than 80 years later, recall laws haven't changed, but Wisconsin has.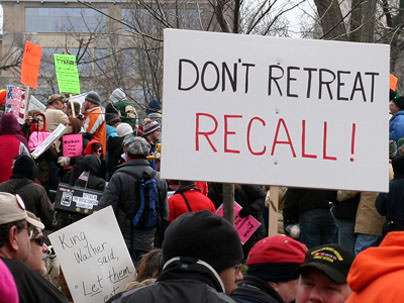 Madison, Wis.—Eighty-six years ago, Robert "Fighting Bob" La Follette's son was newly elected to the U.S. Senate, the Great Depression was a thing of the future, and Wisconsin—a mere 78 years old—amended the state constitution to allow the recall of elected officials.
Times have changed, but Wisconsin's recall law?
"But I'm sure we're going to be reviewing it just because of the cost of the election, and I think people, they have election fatigue," said state Rep. Gary Tauchen (R-Bonduel), chairman of the Assembly's Election and Campaign Reform Committee, adding, "I think it's something we need to look at it. There's definitely a problem."
Nine Wisconsin state senators faced recalls last year. Gov. Scott Walker, Lt. Gov. Rebecca Kleefisch, and four state senators face recall elections June 5.
So whether state laws governing recalls are up to snuff is a matter of some importance.
In Conflict
In at least one instance, state statute conflicts with constitutional law, as Wisconsin Reporter noted recently.
The statute requiring a 21-day time frame for absentee voting conflicts with the constitutional provision requiring a recall election to be held four weeks after a primary, given that election officials need time after the primary to await absentee ballots, canvass, and certify the results.
The Government Accountability Board, the state's election watchdog, heard testimony from staff Tuesday regarding how the state's review of recall petitions compares to the Verify The Recall effort, a software-based petition review process from True the Vote, a self-described nonpartisan nonprofit affiliated with the Tea Party.
The GAB staff analysis indicated that the VTR process relied too much on automation, which led to acceptable names being stricken, such as when "Mary Lee Smith" signed her name as "Mary L. Smith."
But GAB also noted VTR's review standards are much more rigorous than the state's, leaving some people scratching their heads.
True the Vote's process "uses a significantly more demanding standard which would result in far more signatures being eliminated than should be struck under the substantial-compliance standard that has been developed under Wisconsin law," GAB staff said. "While the GAB's petition analysis has clear rules based upon the Statutes, the rigid standards of this particular software are ill-suited to the review process."
The question, VTR and others are asking, is, shouldn't recall petition standards be rigorous?
True the Vote responded in an email saying, "VTR's overarching goal throughout its many (and ongoing) efforts is to ensure the integrity of Wisconsin's election processes… VTR looks forward to continuing its work with the GAB to improve the integrity and transparency of Wisconsin's recall processes, and to ensure that Wisconsin citizens have a voice in the verification and challenge process."
State Rep. Robin Vos (R-Burlington) proposed a constitutional amendment this past legislative session limiting recalls to those officials charged with serious crimes or ethical violations.
Nineteen states allow recalls of state officials, according to the National Conference of State Legislatures, which provides research and support for lawmakers and legislative staff.
Only eight states list specific grounds for recall.
"Their original intent (of the recall provision) was when you have a crook or someone has committed some moral turpitude that you had a way to get them out," said Donald Downs, a University of Wisconsin-Madison political science, law, and journalism professor.
Policy, however, is the driving force behind the current spate of recalls—specifically the collective bargaining limitations put on most public union employees under Act 10, which Walker pushed and the GOP-led Legislature passed.
Downs is waiting for the results of the June 5 recalls to decide whether Wisconsin has entered a new world order where recalls rule.
"If (recall supporters) lose the recall, right, then I think a lot of this isn't going to be an issue," he said. "If (Walker) is recalled, then I think people on both sides are going to say, 'We have a new weapon.'"
This article originally appeared at WisconsinReporter.com.