Details About The Bin Laden Raid Are Secret Unless You Plan to Make a SEAL-Aggrandizing, America-Cheering, "Heroic" Film About It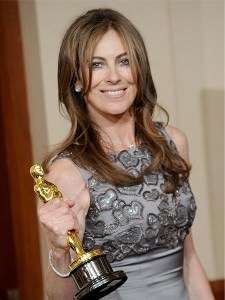 Over at Gawker, John Cook reports that the rumors seem to be true about the May 2011 raid that ended with the death of U.S. enemy numero uno Osama Bin Laden; The White House, while they were busy changing their story about the raid numerous times, were also chatting like ladies at a hair salon to director Kathryn Bigelow and screenwriter Mark Boal so that they could in turn the heroic story into a no-doubt-heroic movie.
The originally planned October 2012 —AKA a month before the presidential election — release date for Zero Dark Thirty was changed to December 2012. Nobody, especially not Bigelow, has admitted to anything gross about the little-too-perfect timing of the original date, but now it's indeed bumped back.
It's important not to influence public opinion or anything. Or to look untoward about serious issues like presidential elections and killing important terrorist. Except that, writes Cook:
The documents, obtained via the Freedom of Information Act by Judicial Watch, which had to sue to get them, show a level of access to CIA facilities and intelligence personnel that would make a national security beat reporter blush. CIA flacks spent an enormous amount of time last summer setting up interviews between Boal and senior CIA officials, including a tour of the room where the raid was planned and access to a CIA-built recreation of the bin Laden compound. All while the White House was engaged in a concerted effort to squelch "leaks" of classified information.
As Politico's Josh Gerstein points out, some of the email traffic in the CIA setting up Boal's visit acknowledges the apparent hypocrisy of opening the door on one of the Agency's most sensitive operations to a Hollywood production while vigorously working to shut down reporting on the incident by news outlets. "We're trying to keep [Boal's] visits at HQs a bit quiet, because of the sensitivities surrounding who gets to participates in this types of things," CIA spokesman Marie Harf wrote in one email. "I'm sure you understand." Another email from a Pentagon official to his colleagues notes an "increase in detailed requests in conjunction with books, documentaries, and film projects…. On behalf of [Defense] Secretary [Robert] Gates and [Under Secretary for Intelligence] Dr. [Michael] Vickers, I request that you decline any direct requests for information regarding the UBL operation…. Recently there have…been a number of sensitive items appearing in the press, which is quite troubling."
That email is particularly ironic seeing as how Vickers himself sat down with Boal for a 45-minute interview in which he disclosed a previously unreported detail about the intelligence that led to the raid.
This tidbit was the fact that back in 2009, U.S. forces lost the Bin Laden courier who eventually lad them to the terrorist leader's Pakistan abode. That was a narrow miss for the Obama administration who maybe could have started off their White House tenure even earlier with this smashing success in terrorist-killing.
Notes Cook, this detail seems to be missing from actual journalism from the last few years and:
"I can't definitively say that no one has ever reported that," Pentagon spokesman Lt. Col James Gregory told me. "But as far as I know those words had not previously been spoken in public."
But at least filmmakers now know, thank God.
CBS notes that there are folks who have other reasons to criticism this kind of snugness between government and Hollywood. It's not that sharing information with Bigelow and Boal and not sharing it with journalists or, ya know, the rest of the world is gross and aggrandizing and transparent. No, it turns out it might have jeopardized national security:
A House committee chairman charged Wednesday that the CIA and Defense Department jeopardized national security by cooperating too closely with filmmakers producing a movie on the raid that killed Osama bin Laden.
Homeland Security Committee Chairman Peter King. R-N.Y., first raised questions about the bin Laden movie last summer, but said newly released documents confirm his suspicions.
The filmmakers are director Kathryn Bigelow and screenwriter Mark Boal, who won Academy Awards for the motion picture "The Hurt Locker."
King referred to documents obtained by Judicial Watch in a Freedom of Information Act request. He said the filmmakers received "extremely close, unprecedented and potentially dangerous collaboration" from the Obama administration.
Unsurprisingly, various officials dispute the suspiciousness of this thing:
Pentagon press secretary George Little disputed some of the allegations. He said that while a planner was suggested as a possible point of contact for information on the bin Laden raid, a meeting between that planner and the filmmakers never occurred.
He said the Defense Department engages on a regular basis with the entertainment industry on movie projects, and the goal is to "make them as realistic as possible. We believe this is an important service that we provide."
Little added that Pentagon officials did meet with producers of the film but said, "We have never reviewed a script of the movie."
Little also denied that the cooperation was an attempt to boost President Barack Obama's election chances, and said the movie would not be out until after the election. Sony Pictures confirmed that the projected release date of the movie is Dec. 19.
CIA spokesman Preston Golson disputed the allegation that the filmmakers were given access to a secret "vault."
"Virtually every office and conference room in our headquarters is called a 'vault' in agency lingo," he said. The 'vault' in question, that had been used for planning the raid, was empty at the time of the filmmakers' visit."
Golson added, "The CIA has been open about our engagement with writers, documentary filmmakers, movie and TV producers, and others in the entertainment industry. Our goal is an accurate portrayal of the men and women of the CIA, their vital mission and the commitment to public service that defines them. The protection of national security equities is always paramount in any engagement with the entertainment industry."
Well, that's one thing the CIA is open about. So that's…something.
This is indeed one of those terrible things that is not that new. The Pentagon clearly adores Hollywood and Hollywood's willingness to trade the army looking good for moviemakers' access to sweet technology. Hollywood also digs getting permission to use a disclaimer which thanks the army for their assistance.
Obviously propaganda has been around as long as movies (and World War II Hollywood obviously was the opposite of a bastion of Catch-22 or The Americanization of Emily type of tough questioning of the fundamental problems of even the "good war"). And perhaps the information wasn't that big of a leak, but the principle is clear; the U.S. government continues to be too arrogant to believe it should have to prove that the details of the Bin Laden are as described. They are not going to release Bin Laden death photos or video footage because that would risk national security.
But if you plan to write a gritty war-drama that is sure to make the SEAL team look amazing…Well. It will probably be a gritty film, and with more shallowly nuanced war-is-tough-and-national-security-is-shouty-and-serious themes than you would get from Michael Bay, sure. But it's hard not assume that the movie will make government and the armed forces look like anything but doers of good. As Bigelow said last year "This was an American triumph, both heroic and non-partisan." Maybe she does know better than we do.
Reason on propaganda and the war on terror