Political Motivations in Scott Walker-Related Probe
D.A.'s man in Milwaukee decks home with pro-union, anti-governor propaganda.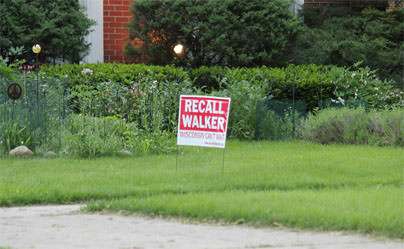 MADISON — The prosecutor is on the defense.
Milwaukee County District Attorney John Chisholm released a tersely worded statement Monday in defense of David Budde, his chief investigator into a John Doe probe involving Gov. Scott Walker's former aides.
The district attorney responded to a Media Trackers report earlier in the day that Budde had a "Recall Walker" sign in the front yard of his home.
Media Trackers, a Milwaukee-area conservative watchdog organization, also reported Budde's home has a pro-labor "blue fist" poster on the front door.
Chisholm said he spoke with his chief investigator and Budde confirmed that his wife, an employee with Milwaukee County, placed the recall sign in the front yard of the home about a week ago.
He did not mention anything about the blue fist.
"I do not regulate or control the constitutional freedoms of my employees' families in their private lives," Chisholm wrote in Budde's defense. "They have the right, under state law, and in this case, county civil service rules, to express their political views as does any other citizen."
Still, Walker supporters have questioned the objectivity of Chisholm, a Democrat, and his office in a county that is a stronghold for union Democrats.
Chisholm said Budde did not sign the recall petition. The district attorney said his investigator has conducted himself "professionally and independently, as he has done in numerous criminal investigations throughout his 26-year career as a law enforcement officer."
"Any decisions related to the John Doe investigation are based on the evidence and not on the political views of any members of this office or their families," Chisholm wrote.
But Milwaukee Mayor Tom Barrett has made the John Doe investigation a focal point in his campaign against Walker.
While the Republican governor has not been implicated, Barrett on Monday demanded that Walker release all information related to the probe, including more than 1,000 emails sent through a secret Internet system near Walker's office in 2010, when he served as Milwaukee County executive.
Barrett's campaign rolled out a fresh round of ads attacking the governor on the John Doe probe.
Walker has said he is cooperating with the investigation.
"The bottom line is my integrity. I've always had high standards," he told Fox 6 in Milwaukee. "In the state Assembly, in my time as county executive, and as governor, I continue to have those high standards. Anytime something's been brought to my attention that my staff in any way violates that, I've taken swift action and the facts are very clear with that."
That point arguably was defined in an email made public in the John Doe investigation.
"We cannot afford another story like this one. No one can give them any reason to do another story. That means no laptops, no websites, no time away during the work day, etc.," he wrote to a staff member following news that another aide appeared to be campaigning on government time in summer 2010.
Wisconsin Reporter has filed an open records request with the District Attorney's office seeking information related to Chisholm's handling of the John Doe documents.
This article originally appeared at WisconsinReport.com.