Morning SpaceX Launch Aborted Due to Engine Problems
Last-second pressure issues in a combustion chamber prompted SpaceX to abort its rocket launch this morning.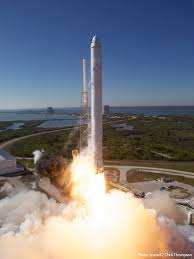 Via the Associated Press:
A new private supply ship for the International Space Station remained stuck on the ground Saturday after rocket engine trouble led to a last-second abort of the historic flight.

All nine engines for the SpaceX Falcon 9 rocket roared to life Saturday morning. But with a mere half-second remaining before liftoff, the onboard computers automatically shut everything down. So instead of blasting off on a delivery mission to the space station, the rocket stayed on its launch pad amid a plume of engine exhaust.
Tuesday will be the earliest SpaceX will be able to try again. You can watch video of the attempt here.
If you're sad about this temporary setback to efforts to privatize space travel, read our special space-themed February issue and cheer yourself back up.