Judge: Two of the Six Police Officers Responsible For Kelly Thomas' Death Will Stand Trial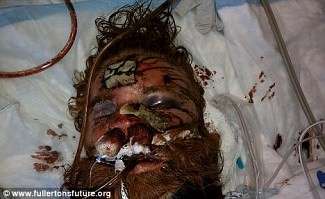 After three days of pretrial, a California judge has ordered Fullerton PD Officers Manuel Ramos and Jay Cicinelli to stand trial for the murder of homeless man Kelly Thomas, who was beaten into a coma last July and was taken off life support five days later. (Reason posted the video of Thomas's murder yesterday.) NBC 4 reports:
Judge Walter Schwarm heard from witnesses and viewed surveilance video of the beating during a preliminary hearing that started Monday.

Dr. Aruna Singhania, the pathologist who performed the autopsy on Thomas' body, returned to testify Wednesday. Thomas died due to bleeding from his broken nose and other facial injuries, she testified Tuesday.

The blood filled his lungs and oxygen deprivation left his brain dead, Singhania said.

The preliminary hearing included transportation center surveillance video of the beating, during which Thomas—who suffered from mental illness—can be heard calling for his father and telling officers that he cannot breathe. UC-Irvine trauma surgeon Dr. Michael Lekawa testified Tuesday that Thomas suffered from hypoxia—the body as a whole or a region of the body wasn't getting enough oxygen.

But defense attorneys have questioned witnesses during the preliminary hearing about whether the actions of responding paramedics might have contributed to Thomas' death. At a pre-trial hearing in December, Ramos' attorney said the officer used "only that force that was necessary" to restrain "a non-compliant suspect."

The 38-year-old Ramos, a 10-year Fullerton police veteran, is free on $1 million bail, one of the highest ever posted in Orange County. Cicinelli, 42, is free on $25,000 bail. Both are on unpaid administrative leave.

Both pleaded not guilty.

Four other officers who responded to the bus depot were not charged.