New Jersey State Police Superintendent Caught in Apparent Lie over High-Speed "Death Race" Escorts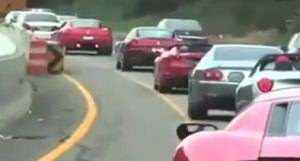 Last week, the Star Ledger blew the lid on a New Jersey State Police escort of a high-speed caravan of luxury cars apparently headed for a charity Ferrari rally in Red Bank. The Ledger reported then that the president of the car dealership involved described the caravan as such at the charity event: "We start at the top of the Garden State Parkway and travel approximately 75 miles with state trooper guidance."
Multiple YouTube videos of the caravan, dubbed "Death Race 2012" by gawkers, led to much hand-wringing by top New Jersey officials.
A few days after the initial Star Ledger report, the New Jersey State Police Superintendent Rick Fuentes tried seemingly to play down the escort by pointing out one of the troopers suspended rescued a driver from a burning vehicle 12 years ago and that hundreds of escorts are done all year long (after escorts were previously characterized as "rare"). "A lot with secret service helping the NYPD out. We might do an escort if the size of the group might impede the other traffic. Permission is given at local command," Fuentes told CBS News.
Now the Star Ledger's caught him in an apparent lie:
[A] copy of the division's internal policy on escorts obtained Thursday by The Star-Ledger says requests can be granted only in limited and specific circumstances, and they all must be approved by one of the highest-ranking officers in Fuentes' inner circle. The policy shows escorts are supposed to be tightly controlled in the upper ranks of the force and allowed judiciously — in cases such as high profile funerals or for top government officials — in contrast to some recent statements by the State Police.
On Monday, Governor Chris Christie said he had full confidence in the Attorney General and in Fuentes and would not "insert" himself into the situation. No comment yet from the Governor on the new revelations.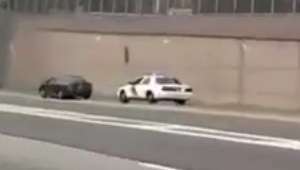 In 2007, another state trooper crashed an SUV carrying then Governor Jon Corzine. The SUV was going more than 90 miles an hour and Corzine wasn't wearing his seatbelt. Fuentes initially praised the trooper's "valiant attempt to avoid this catastrophe," and defended his praise even after it was revealed the trooper had caused the crash.