Burning Man Hits D.C. (Again)
Politico notes the story of the Burning Man festival (subject of my first book, This is Burning Man) hitting D.C. in the wake of being placed on "probation" vis a vis their permit to use federal land under the control of the Bureau of Land Management (BLM). I blogged about this probation last week.
The story exaggerates a bit the event's lack of normal electronic connecticity–some people set up private pockets of wireless internet, and due to new cell towers being built in the area there is now occasional spotty cell phone access as well for the past couple of years.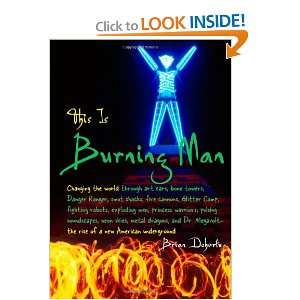 The political core of the story:
The event — with its principles of "radical inclusion," "decommodification," and "radical self-expression" — has swollen to more than 50,000 people who bring their own food and water and manage to leave little trace. Burning Man sold out last year and demand remains high this year.

The bulk of this year's tickets were sold in a random drawing, leaving long-time "burners," as they are called, without tickets. Organizers want a five-year permit from the bureau and they want to take the event up to 70,000 participants….

Meanwhile, the bureau for the first time put the event on probation for going over the attendee limit of 53,000 during two days of last year's event.

While Burning Man has appealed the decision and Black Rock City will still rise in the desert from Aug. 27 through Sept. 3 this year, the probation status has put a damper on the mood of self-expression clique.

It's also thrown a wrench in the organization's efforts to win a five-year permit from Uncle Sam.

If Burning Man is put on probation again this year, the event's permit could be jeopardized, said Gene Seidlitz, the BLM district manager for the region. The population caps are important as they make it possible for law enforcement and other services to plan, he said.

Burning Man's Goodell said that being put on probation "is not jeopardizing our survival."

As part of its federal outreach, Goodell and Larry Harvey, the founding director of the event, will visit offices of lawmakers from California and Nevada as well as the BLM and the Department of the Interior. They will also hold a cocktail party for congressional staffers and others. The organization declined to say exactly which lawmakers and agencies it plans to visit.
As event founder and director Larry Harvey explains in the video accompanying the story (which contains interviews with him and another event manager Marian Goodell), Burning Man lobbying is not new-news, though many outlets are treating it as such now. "Everyone should be a lobbyist," Harvey says, and they (in a business that requires yearly negotiations with federal and local governments) have been doing it for over a decade. (By some homesteading standards, with Burning Man being pretty much the only long-term invested user in their particular bit of desert, one could argue it should be more their property than the BLM's.)
My February 2000 Reason cover story on Burning Man's relation with authority and authorities. I wrote on Burning Man's tortured relations with commerce for Reason in 2007.