Bird Brains Target Bird Baths in New York City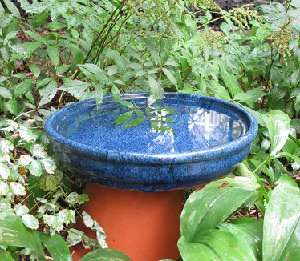 Four New Yorkers received summonses for their bird baths last year, the New York Times reports, out of nearly 700 citations for "standing water" that the New York City Department of Health issued last year. But the Times reassures that's an average amount of citations and that it's not just another nanny state intrusion:
In a city where Mayor Michael R. Bloomberg has all but banned smoking and waged war on soda and trans fats, some New Yorkers may complain that the crackdown on birdbaths is yet another intrusion by the nanny state or a ruse to raise more money for municipal coffers.
Actually, a regulation against stagnant water has been on the books for more than a decade, but in the battle against West Nile virus, the health code was amended last year. It explicitly made landlords liable and applied the rule, apparently more broadly, to "standing water" rather than "stagnant water" and further empowered the department not only to prevent "the breeding or harborage" of mosquitoes, but also to prevent "conditions conducive" to their breeding or harborage.
The fine for the water standing there in your birdbath? Up to $2000. And about that West Nile, it's killed less people in the United States than the conventional flu.