Two and a Half Year Homeland Security Investigation Leads to Raid on Flea Market That Sells Counterfeit Goods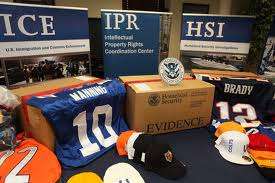 On Sunday, several Department of Homeland Investigators decided that in order to fulfill their alarmingly broad, yet vague mission statement of investigating "immigration crime, human rights violations and human smuggling, smuggling of narcotics, weapons, and other types of contraband, financial crimes, cybercrime and export enforcement issues" they should probably raid a Baltimore flea market. But actually, they had decided to do so several years ago.
Nicole Navas, a public affairs specialist with the Department of Homeland Security, said sports apparel, musical recordings and cosmetics were among the items under scrutiny in the 2 1/2-year-long investigation.
Seems like a lot of intervention for a minor crime, but dammit these are, after all, the boys and girls who have so far seized hundreds of domain names in order to protect us from internet sellers of counterfeit goods.
The agents even rented a booth at the flea market for a month in spring of 2011 in order to set up a sting for buyers. Agents spent $2000 and then $125 dollars a week to rent the booth. Once there they sold cosmetics and counterfeit sports jerseys and various pieces of high-end clothing. And they found they weren't alone in their devious selling:
Agents found 70 percent of many name-brand items sold at the flea market were counterfeit. Labels included Louis Vuitton, Gucci, Tiffany, Nike, Uggs and North Face.
Agents alleged in the affidavit that the flea market's management was aware of the illegal practice. A former vendor told agents that the market's owner and employees knew that many of the goods for sale were counterfeit.
There's apparently a history of counterfeit goods going through this flea market, and indeed such goods are a booming, $600 billion worldwide business. But when you read descriptions of the amount of work agents devoted to finding proof of these brazen criminal acts, it's hard not make a face. And this less-than-damning description of the proof that a flea market employee knew about counterfeit goods doesn't exactly make the case that DHI agents should be spending their days and tax payer money on this sort of thing, either:
The agents identified more than 300 vendors at the market, of whom 200 were selling fake items, the affidavit said. At one point, wearing a hidden video-recording device, the agents met with a flea market employee to inquire about renting a larger booth and said they wanted to avoid so-called knock-off merchandise.
An employee identified as Phyllis said, "Most of this is not knock-offs around here," motioning to several booths, according to a transcript included in the affidavit.
"The only thing I think you have, you have some Polo T-shirts on that side," she said, motioning to some other booths.
That exchange led agents to believe the flea market's management "knows what is counterfeit and what is not, and where counterfeit is sold within the market," the affidavit said.
No vendor was identified by name in the affidavit. About 250 vendors listed their business at the flea market last year, according to a list obtained by federal agents from the Maryland Comptroller's Office.
Maybe the sellers are well aware that they are scamming the public and the true makers of these products, but don't isn't it possible the buyers know this as well?
Joy Cosby, who closed a business selling body oil at the flea market last year amid rising competition, said she wasn't surprised to hear about the raid.
"Actually, I'm familiar with authentic products and I knew they weren't real," said Cosby, citing handbags in particular. "Gucci bags, Louis Vuitton bags and Chanel bags. They were all knock-off bags … There's no way you could go to the Gucci store in Bethesda and buy a Gucci pocketbook for $40. A key chain alone is $250."
Consumers aren't as stupid as regulators think they are. Maybe somebody optimistic or idiotic thinks they're getting the world's greatest deal on a Gucci bag accessories but to covet that sort of luxury is to be aware that it's desired because it's absurdly expensive. So if you're looking for that dream bag that usually costs a year's rent at a flea market, you are not the demographic who can afford a real one.
And so if they're not stolen goods, they're knock-offs, which is a much fuzzier sort of a crime. The dire warnings that such products ruin designer's livelihoods was investigated by Reason.tv back in 2011.
There are arguments to be made for and against intellectual property and trademarks, but it's hard to find any for two and a half year federal investigations, stings, and raids on flea markets over fake sports jerseys. Not to mention that there's a long history of putting the onus squarely on small business folks. When regulators profess to fear stolen or counterfeit goods, they're often just trying (whether they admit it or not) to shut down competition or limit a certain type of business.. Reason.tv noted this last week when they investigated why Washington, DC is trying to make record stores get second hand dealer's licenses.
A good rule with these stories is to remember that it's not about counterfeiting or helping the little guy. Even if you think anti-piracy or counterfeiting regulation is legitimate, what's more dangerous, piracy or the government's ability to seize domain names of websites? A rule of thumb with government is that it will respond to a (debatable) problem with an unsettling show of force. This is always about moral panics over theft or certain businesses, it's about less competition and fewer choices, and it's definitely about some regulator somewhere with a hard-on for government doing something.
Reason on counterfeit goods, Reason.tv on "Too Much Copyright"