Sandra Fluke's Protection Racket
Reproductive freedom does not mean free birth control.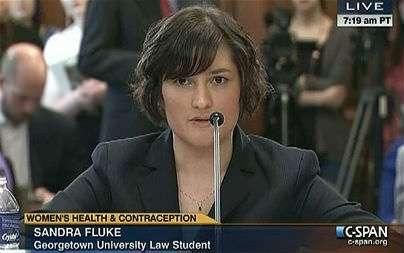 On his radio show last Friday, Rush Limbaugh complained that Democrats try to "impugn and discredit the people who disagree with them." That was two days after Limbaugh called Georgetown law student Sandra Fluke a "slut" and a "prostitute" because she disagreed with him about the Obama administration's regulation requiring employers to provide health care plans that cover contraception.
By Saturday, facing criticism from fellow Republicans and desertions by advertisers, Limbaugh was apologizing to Fluke for his "insulting word choices," implausibly claiming he "did not mean a personal attack." Whatever his intentions, Limbaugh's sexist tirade reinforced a narrative that depicts resistance to the contraceptive mandate as part of "a systematic war against women," as Sen. Barbara Mikulski (D-Md.) put it last week. But that narrative remains false, no matter how many stupid jokes Rush Limbaugh makes.
Mikulski was responding to a bill, narrowly rejected by the Senate, that would have exempted employers and insurers from medical coverage mandates to which they object on moral or religious grounds. "The Senate will not allow women's health care choices to be taken away from them," declared Sen. Patty Murray (D-Wash.).
It's a mystery how revising a mandate that has not yet gone into effect takes any kind of choice away from anyone. But for Fluke, who spoke to a group of House Democrats last month on behalf of Georgetown Law Students for Reproductive Justice, free birth control at someone else's expense is a straightforward matter of gender equality.
Although Fluke chose to attend a Jesuit university knowing that its student health plan did not cover contraceptives, she believes it is unfair that she has to live with the consequences of that decision. "We refuse to pick between a quality education and our health," she said, "and we resent that, in the 21st century, anyone thinks it's acceptable to ask us to make this choice simply because we are women."
Fluke claimed that "without insurance coverage, contraception can cost a woman over $3,000 during law school," which translates into $1,000 a year, or about $83 a month. Even taking into account the cost of a medical appointment, that estimate seems high, since you can buy a month's worth of birth control pills for less than $20 online or pay $9 for generic versions at Walmart. Condoms are about 50 cents each in packs of 12, and the amortized cost of a diaphragm, according to Planned Parenthood, averages about $2 a month.
Yet Fluke reported that two-fifths of female law students at Georgetown are "struggling" to pay for birth control, while some cannot afford it at all. If so, abstinence is always an option.
Cost aside, the essence of Fluke's argument is that reproductive freedom requires free birth control. By the same logic, religious freedom requires kosher food subsidies, freedom of speech requires taxpayer-funded computers, and the right to keep and bear arms requires government-supplied guns.
If you do not agree with this reasoning, according to a recent fundraising appeal from House Speaker Nancy Pelosi on behalf of the Democratic Congressional Campaign Committee, you are joining "Republicans' disgraceful assault on women's rights." I am not now, nor have I ever been, a Republican, but Fluke's idea of "reproductive justice"—compelling other people to pay for her contraceptives, even when they object to that requirement for religious reasons—strikes me as decidedly unjust.
Last week Secretary of Health and Human Services Kathleen Sebelius said "the Obama administration believes that decisions about medical care should be made by a woman and her doctor, not a woman and her boss." Yet her boss not only retained the market-distorting, price-inflating tax policies that create an artificial incentive for employer-provided health insurance; he made the connection between employment and medical coverage mandatory, then decreed exactly what it would include, thereby precipitating this whole controversy. If President Obama does not want employers involved in medical coverage, why is he forcing them to be?
Jacob Sullum is a senior editor at Reason and a nationally syndicated columnist. Follow him on Twitter.
© Copyright 2012 by Creators Syndicate Inc.