Porn So Icky That It Can't Be Obscene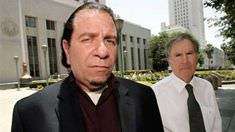 Today the jury in the federal obscenity trial of fetish filmmaker Ira Isaacs began considering whether his movies, which feature women eating (fake) feces and performing sex acts with (real) dogs, have enough artistic, political, or scientific value to render them nonfelonious. "It is pretty gross, what you watched," conceded Isaacs' lawyer, Roger Diamond, but "it does have artistic value. Not to everybody, but art is not always pleasing." Indeed, Isaacs argues that the disgust evoked by works such as Hollywood Scat Amateurs 7 and Japanese Doggie 3 Way is a crucial part of what makes them artistic. "My intent is to be a shock artist in the movies I made," he testified, "to challenge the viewer in thinking about art differently…to think about things they'd never thought about before." Similarly, Diamond argued that the films have political value as a protest against the governmernt's arbitrary limits on expression, illustrating the "reality that we may not have the total freedom the rest of the world thinks we have."
I will be impressed if Isaacs, who faces a possible penalty of 20 years in prison, can pull off this feat of legal jujitsu, transforming the very qualities that make his movies objectionable into their redeeming value—especially since at least some of the jurors (according to the Los Angeles Times) found the evidence against him literally unwatchable. But if the jurors want to blame someone for making them sit through this assault on their sensibilities, they should not blame Isaacs. They should blame the Justice Department, which initiated the case during the Bush administration, and the Supreme Court, which established the absurdly subjective test they are now supposed to apply. Will they take seriously Isaacs' references to Marcel Duchamp, Robert Rauschenberg, Kiki Smith, and Piero Manzoni, or will they dismiss his artistic name dropping as a desperate attempt to give his masturbation aids a high-minded purpose?
There is a third possibility, one that U.S. District Judge George H. King warned the jurors against: They could reject the very notion of sending people to prison for distributing sexual material, no matter how icky, produced by and for adults. (Let us ignore for the moment the canine performers in Japanese Doggie 3 Way, who apparently were adults but probably were not capable of consent.) AVN correspondent Mark Kernes reports that in his jury instructions King, who had worried aloud about the possibility of nullification while the jurors were outside the courtroom, was "careful to note that even if the jury disagreed with the law, it was still their duty to follow it." Nonsense.
Yes, this is the same obscenity case that was interrupted by the fuss over images on Judge Alex Kozinski's computer, a controversy that ultimately led to a mistrial. Go here for Reason's coverage of John Stagliano's 2010 obscenity trial, where the prosecutors did such a poor job that the judge dismissed the charges. The Obama administration, to the consternation of social conservatives, has said it plans to focus its obscenity efforts on cases involving children from now on.