Federal Judge Says the Government Can't Use Cigarette Packages for Anti-Smoking Propaganda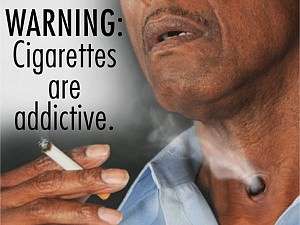 Yesterday U.S. District Judge Richard Leon, who in November temporarily blocked enforcement of federal regulations requiring big, graphic warnings on cigarette packages, made that order permanent, ruling that the label mandate violates the First Amendment. Although factual government-required warnings about product hazards are constitutionally permissible, Leon said, the new messages, which would occupy the top half of each package's front and back panels, go far beyond informing consumers:
The graphic images here were neither designed to protect the consumer from confusion or deception, nor to increase consumer awareness of smoking risks; rather, they were crafted to evoke astrong emotional response calculated to provoke the viewer to quit or never start smoking….

Further, the graphic images are neither factual nor accurate [because they depict outcomes that are far from typical]….

The images, coupled with the placement of the toll free number, do not "promote informed choice" but instead advocate to consumers that they should "QUIT NOW."…

The Government's actual purpose is not to inform or educate, but rather to advocate a change in behavior—specifically to encourage smoking cessation and to discourage potential new smokers from starting.
"In essence," writes Michael Siegel on his tobacco policy blog, "the government is using the cigarette package as a billboard for an anti-smoking advertisement and referral system to recruit smokers for the cessation hot line intervention." Leon says that sort of compelled speech is inconsistent with the First Amendment:
The Government's interest in advocating a message cannot and does not outweigh plaintiffs' First Amendment right to not be the Government's messenger….This Court is acutely aware of the health risks of smoking. And although the Government may want to convince consumers to stop smoking to protect their health, plaintiffs are correct in stating that their industry should not "serve as the government's unwilling spokesman in that paternalistic endeavor."
The new labels were authorized by the Family Smoking Prevention and Tobacco Control Act, which President Obama signed into law in 2009. The Obama administration says it will appeal Leon's ruling.