Shopping for guns and votes in Tallahassee
Tallahassee, Fla - Gun issues have not played a major role in the race for the Republican presidential nomination. They are barely on the radar this go around. At the Tallahassee Gun Show, attendees ranked Second Amendment cbelow issues like the economy and "the Constitution." Only two of the four remaining candidates mention the Second Amendment prominently on their sites: Newt Gingrich and Rick Santorum.
From Gingrich's site:
The right to bear arms is a political right designed to safeguard freedom so that no government can take away from you the rights which God has given you.
From Santorum's site:
Coming from Pennsylvania, a state with a rich heritage of hunting and fishing, Senator Santorum understands firsthand the importance of preserving our constitutionally protected rights found in the 2nd Amendment. Senator Santorum fights to preserve this tradition, and will work to ensure these rights are not infringed upon.
Most of the voters I talked to at this show were supporting Santorum or Ron Paul. Nobody liked Romney but all said they would probably end up voting "against" President Obama. The organizers of the event barred me from talking to people or taking pictures inside the actual show so we talked in the parking lot.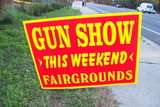 Dave Young, 52, of Tallahassee said he struggled between Paul and Santorum before eventually going with the latter. "Definitely not big government Romney or Newt. Both of them are self confessed progressives and progressives are just slow-motion socialists. I agree with what Dr. Paul says but I liked what Santorum said about the Constituion," he said.
"It's nice to see that gun sales across the country are way, way up," said Young, adding that gun issues comprise about 80 percent of his political decision-making.
One gentlemn, who professed his love for Reason but declined give his name because he is a lobbyist, said he was pretty sure he would vote for Paul. "I can't freaking stand Gingrich. I would fucking voting for Obama before I'd vote for Gingrich. He's a disgraced, failed politican," he said.
The lobbyist said the Second Amendment was not a factor in the primary because so many states have liberalized gun laws. All the talk about Obama coming to take everyone's guns away was a non-issue. "I've seen no indication of anything in that direction," he said.
Not everyone voting for Paul said they were voting because of his economic policy.
"I don't think we need to be involved in everyone's business," said Charles Fogg, a Vietnam Vet and gun collector.
"We got people here we could be spending money on. Like health insurance. I believe that universal health care should be done in the United States," he said.
Not exactly something you hear from your typical Paul voter.